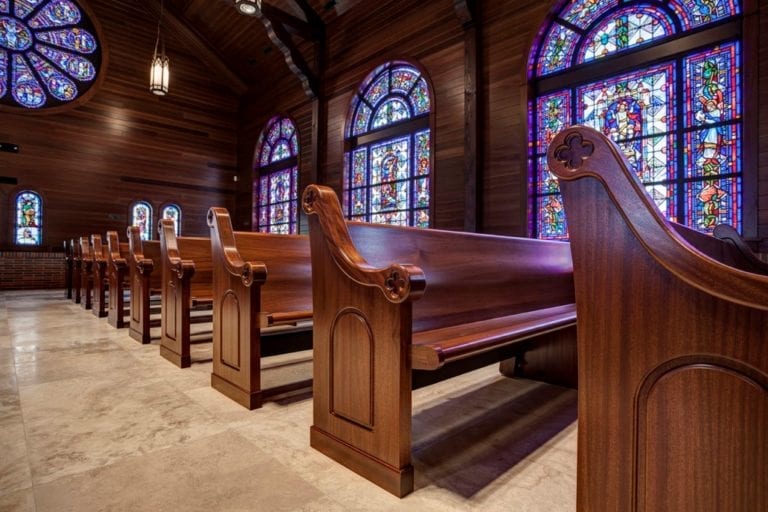 Discover How to Protect Your Church Seating While Thoroughly Disinfecting Surfaces
Here at New Holland Church Furniture, we handcraft our quality-built worship furniture and synagogue or church seating to withstand the test of time. However, maintaining worship furniture with some light cleaning and care routines is beneficial. Additionally, in light of the continuing COVID-19 pandemic situation, you likely have questions about cleaning and disinfecting your wood furniture to "prevent the spread" without damaging finishes.
Not quite sure how to properly care for hardwood worship furniture to ensure that your congregation's investment lasts as long as possible, even while addressing disinfecting concerns? This blog post is for you!
Of course, if your congregation has been worshipping in a space with historical, traditional architecture and wood worship furniture for many years, these tips may not be news to you. Many of these are indeed "common sense" pieces of advice.
The truth is, though, you may actually be over-maintaining your worship furniture today, especially if your cleaning crew regularly uses a lot of furniture polish or wax—or if they are not using the right disinfectant products.
Discover our tips for keeping your worship space looking beautiful by following an overall approach of light-touch cleaning, treating issues, disinfecting surfaces or objects as needed, and protecting your seating, chairs for worship, and other furniture from damage.
Lightly Clean on a Regular Basis
With hardwood worship furniture, cleaning routines can be divided into two categories: regular dusting and less frequent, deeper cleaning and disinfecting. Often, that "less frequent" schedule can be annual or bi-annual. (In many churches, for instance, thorough cleaning is limited to just before Christmas services and just before Easter.)
These are the main items for your routine cleaning to-do list. (More on deeper cleaning in the next section.)
Keep Dust Off
Your sexton and/or cleaning and maintenance team should be dusting all furniture in your sanctuary and other worship spaces regularly—ideally every week. This includes worship seating like curved pews, straight pews, and wood chairs.
Lint-free, absorbent cloths should be the only tools required. Regular use of aerosol cleaning products, polishes, or waxes can dull wood finishes—and some of these actually attract more dust to settle on surfaces! Do not use those. And also, be careful not to let excess soap and water stand on wood surfaces for any length of time, as damage will result.
For seating with incorporated upholstery, a light vacuuming over the fabric with an upholstery attachment is recommended at least once a month.
Remove Stains Quickly
On the subject of upholstered seating surfaces, while finished wood furniture does not tend to take on stains from spills, upholstery easily does. As your cleaning team works through their weekly dusting regimen in your worship space, they need to be on the lookout for stains.
Stains should be cleaned with professional upholstery cleaning solutions on an as-needed basis. (Be certain to test the selected cleaning solution in an inconspicuous area prior to cleaning the stained area).
What About Killing Germs on Surfaces to Prevent the Spread of COVID-19?
According to several major health and wellness resources, including the Centers for Disease Control (CDC), COVID-19 does not easily spread on surfaces. The primary transmission mode for COVID-19 is through close contact from person-to-person, which means social distancing is still a better means of reducing the virus's spread. Your cleaning team's regular light cleaning of your worship furniture is thought to be safe in most situations.
Read on for more information about deep cleaning cycles, and consider increasing the frequency of these if you have concerns about removing germs from your worship space.
Treat Bigger Issues During Deep Cleaning Cycles
"Bigger issues" can be either aesthetic, like dull finishes or torn upholstery, or structural problems like a loose joint or broken decorative elements necessitating repair. Once or twice each year, your cleaning team needs to go through and carefully detail-clean all exposed wood surfaces—like pew ends and armrests—with a mild detergent and warm water.
As your cleaning and maintenance team works through your worship space, they should be looking out for the biggest signs that your worship furniture should be repaired or replaced. In addition to stubborn stains and dull finish issues that they can't seem to resolve, your team should pay attention for cracked or splintering wood and problems that create safety concerns, which should be addressed as soon as possible.
Use Oils—Sparingly—to Protect Finishes
This more in-depth cleaning routine can also include treating wood with a fine liquid furniture oil product, such as Old English. Note that our finishes do not require the application of wax products to protect your worship furniture over time.
If you ever have questions about the exact products you should use on your furniture, feel free to reach out to us. We're happy to advise our valued New Holland Church Furniture customers on caring for all the furniture we have installed. You can also check out our wood furniture care instruction guidelines now.
Safely Disinfect Wood Surfaces
Follow these steps to disinfect wood church furniture on an as-needed basis.
Wipe wood surfaces with bleach-free Clorox Disinfecting Wipes. DO NOT use wipes that contain bleach.
Use wipes sparingly as to not saturate the finish.
Allow the wiped surface to air dry for 10-15 seconds.
After 10-15 seconds, dry the wood surface with a clean, dry cloth.
Note that if the cleaning product contains bleach, it is not an approved product. Any product containing bleach or alcohol is not an approved disinfectant and will deteriorate the finish and void your furniture's warranty.
Protect Worship Furniture From Common Stressors
Stains from accidental spills in your worship space will happen from time to time, but your worshippers are not your most significant threat to your wood seating and furniture's "health." Environmental conditions—like sunlight and extreme changes in humidity—are.
Avoid Intense Environmental Changes
worship furniture has been in place for decades already, it may have been installed in the pre-air conditioning days. This means it was once subjected to profound environmental shifts throughout the year—or even day to day—that it likely is not any longer.
That's a good thing, but your furniture may have sustained damage from those earlier changes. You should address this with a professional wood furniture resource to explore your options for repair and restoration services, especially if your furniture creaks and cracks when your congregants sit down!
Because wood is a natural material, it expands and contracts with swings in temperature (and corresponding fluctuations in relative humidity). Applied finishes can also be damaged by exposure to bright sunlight over time.
Keeping a relatively consistent room temperature and humidity level within your sanctuary or other worship space is one of the best approaches to maintaining worship furniture. Additionally, you may want to explore options for UV light filtration on large sanctuary windows not made from stained glass to minimize fading.
Ready to Begin a Worship Furniture Upgrade Project?
If your current wood worship furniture is damaged or challenging to maintain, New Holland Church Furniture is ready to help your congregation discover the joy of upgrading to the best furniture available today. Built to last with the highest quality craftsmanship, our unrivaled worship seating, furniture, and architectural woodwork pieces are easy to live with, durable, and will ultimately enhance the worship experience for your congregation.
Give us a call or find a rep in your area to get started, or discover our complete digital Uniquely Custom lookbook now.