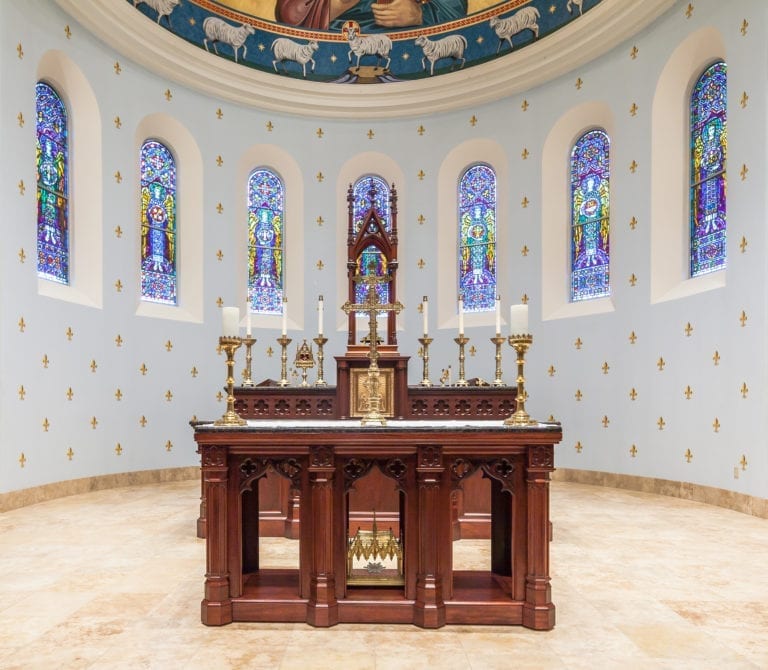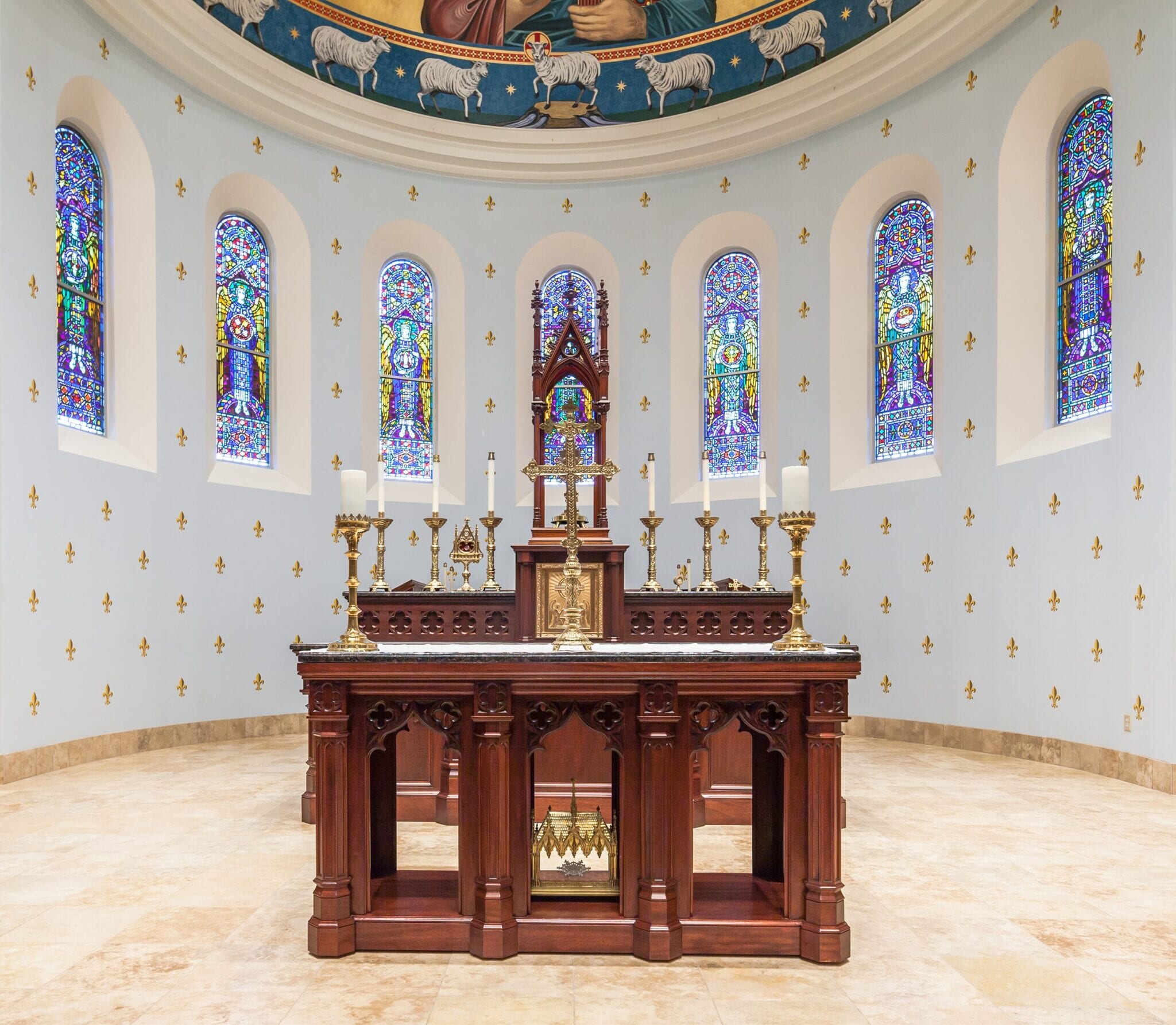 When it's time to renovate or redesign your church or synagogue, you likely focus on your seating options. Whether it's radius curved pews, straight pews, or church chairs, you want high-quality, long-lasting church furniture. But what about other aspects of your sanctuary?
In today's blog post, we will look at a feature in your worship space that you might overlook: Altar Tables and other types of tables used in worship services. Many houses of worship have tables strategically placed around the worship space that often hold candles, collection plates, and holy books or serve a specific purpose.
Here at New Holland Church Furniture, we handcraft our quality-built worship furniture with your specific church, parish, or synagogue in mind. For over 70 years, our master craftsmen have built beautiful furniture pieces for worship spaces all over the Western Hemisphere that are a source of pride for congregations.
Continue reading to learn more about the various worship tables and their uses for each religion. When it's time to upgrade the tables in your own worship space, contact the experts at New Holland Church Furniture! We'll guide you through the design and build process to ensure you get the right tables for your church or synagogue. Give us a call or find a rep in your area to get started today!
1. Credence Table
If your house of worship belongs to the Protestant faith, there are several styles of tables that perform various functions. For example, a Credence Table is a small table on the south side of the sanctuary. Many churches use this table to display the tools used during the Communion ceremony. These tools can be a bowl, perforated spoon, ewer, towel, and the wine and bread used for the service.
2. The Lord's Table or Communion Table
When it's time for a church to perform a Communion Service, the tools are moved from the Credence Table to the Lord's Table. Also called the Communion Table, this table serves as the place where the bread and wine (or wafers and grape juice) are placed so that members of the congregation may receive them from their church leaders during a holy ceremony.
You'll find communion ceremonies of varying types and frequencies in Liturgical, Catholic, and Protestant churches. This table may also be called an Altar Table. However, some church congregations, such as Methodists, do not use these tables as they do not perform a communion ceremony regularly.
3. The Holiness Table
In some denominations, a Holiness Altar Table is placed at the front of a sanctuary. It was traditionally used as a major focal point of the worship service, where congregants would stand, come to the Holiness Table, and receive a blessing.
Today, it is more often used as a display table. It may hold flowers, offering plates, or a large Bible. People may go to the Holiness Altar Table to read the Bible, pray, or seek a blessing.
As with many houses of worship, the size of your space will determine how many worship tables you have and how they are used. New Holland Church Furniture will work with you and your congregation to build new tables or upgrade the current look of your worship space to create an inviting and welcoming place for all who enter your doors.
4. The Offertory Table
In Catholic Churches, Holy Communion is offered during each mass. The table used during the "Preparation of the Gifts" is called the Offertory Table. It's part of a Roman Rite in which the Gift Bearers take the gifts of the bread or wafers and wine from the Offertory Table and process them up from the community to the priest.
A Credence Table is also used in the sanctuary of a Catholic church to hold these items before they are consecrecated during the celebration of the Eucharist.
5. The Altar Table
The Altar Table is used similarly to the Communion Table. In the Catholic church, the altar is the table on which the holy sacrifice of the mass is offered. An Altar Table can also serve other purposes. In Orthodox Churches, for example, the altar is an area at the east end of the church, usually behind an iconostasis (altar screen). The Altar Table is placed in the center and is sometimes referred to as the Holy Table. These tables are usually cube-shaped, covered with a cloth, and topped with a tabernacle and candle stands.
6. Torah Reading Tables
In synagogues, you'll frequently find Torah Reading Tables, also called the Bimah, where the Rabbi stands. New Holland Church Furniture can make your Bimah furniture in any style to match your current look or help you find something new. We can even include pull-out steps for a Bar or Bat Mitzvah child to stand during an Aliyah when they read a portion of the Torah.
As the leading manufacturer of custom worship furniture, we can create or upgrade any worship furniture piece for your synagogue.
Get Custom Tables Designed for Your House of Worship
No matter what type of Altar Table your church or Bimah stand your synagogue requires, New Holland Church Furniture is here to help! We can design and build custom Altars or Communion, Credence, Offertory, Holiness Tables, Torah Reading Stands, and more for you.
For over 70 years, we have been helping churches and synagogues reimagine the look and feel of their worship spaces. We're located in New Holland, Pennsylvania, but we have served our customers worldwide. Give us a call or find a rep in your area to get started today!