When the fabric on the pews in your sanctuary has seen better days, or you want to refresh the look of your worship space without the resources required for completely new benches, reupholstering pews is an excellent option. New Holland Church Furniture can help give your pews the new, fresh look they deserve after so many years of worship events. Get started today by contacting our team to arrange for upholstery services.
---
Expert Care Taken to Reupholster Your Church or Synagogue Pews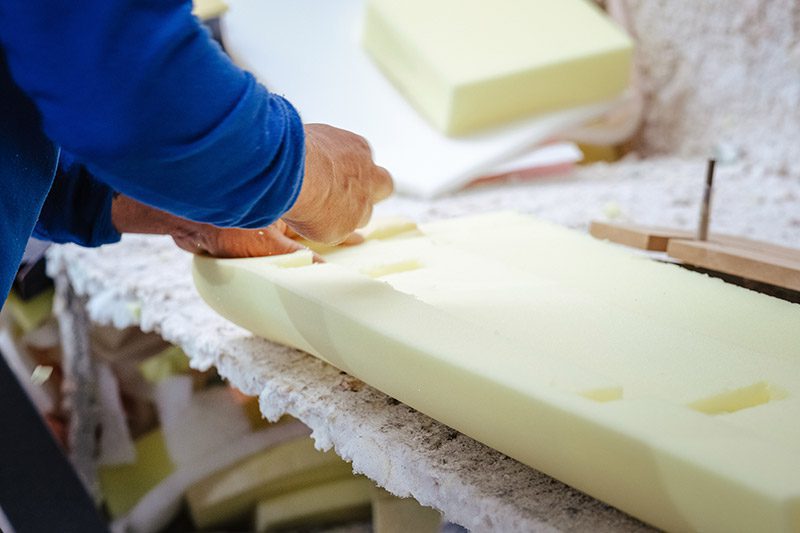 Your sanctuary is the heart of your church or shul. It's where your congregants gather to worship their Creator and hear the Word. Yet, having church furniture that is uncomfortable or outdated can be just the thing that is distracting some people from giving their all to worship services. That's why we highly recommend reupholstering pews and church chairs—to provide them with a comfortable, attractive appearance.
The foam on your church pews loses its resiliency a little each year. So when the cushioning has provided comfortable seating for 25 to 30 years, the foam has likely completely compressed and isn't much better than sitting on hard concrete.
At New Holland Church Furniture, we can help with reupholstering your pew cushioning and church chair pads to beautify outdated fabric and refresh the foam to provide comfortable seating for your attendees. We've been the leaders in church and synagogue furniture for the past 70 years. We have the skill and craftsmanship it takes to refresh the fabric and foam on your church seating to provide comfort, durability, and an attractive appearance for the next two to three decades.
---
Why Choose New Holland Church Furniture to Refresh Your Church Furniture?
Reupholstering pews isn't something to be left to amateurs. Sure, you may be able to clean the pew upholstery, but cleaning can only take your church interior so far. As the leading manufacturer of upholstered radius curved pews and with thousands of pew installations worldwide, we have experience with seating of all kinds, from the standard to the unique. Let us refresh your worship space with our upholstery services and you'll see firsthand how we can transform your worship space.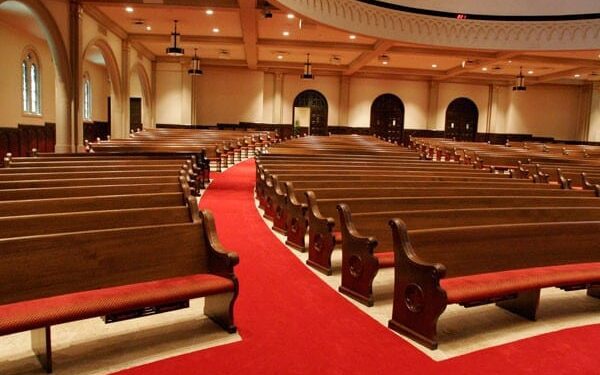 We Set the Industry Standard
We may not be the first company ever to manufacture church and synagogue furniture, but we are the company that sets the standard high for all other manufacturers. No other creator and installer of upholstered pews have the years of experience, dedication to the craft, or skilled artisans we have here at New Holland Church Furniture.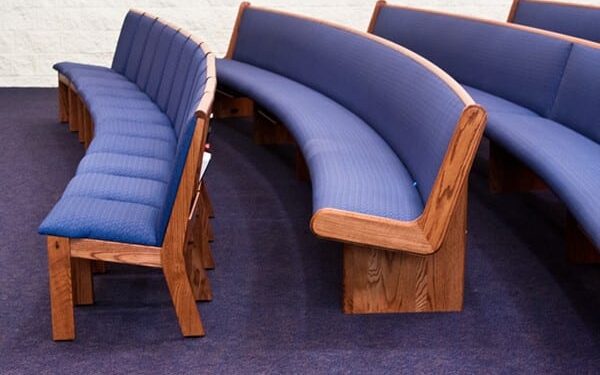 Make Your Pews Look New
If you've ever painted a room in your home, you know that a fresh coat of paint can make the room feel new. The same thing happens with pew reupholstery. We'll stretch the fabric under a hydraulic press to eliminate wrinkling and use a quality polyester blend material treated with a proprietary soil and stain-resistant treatment.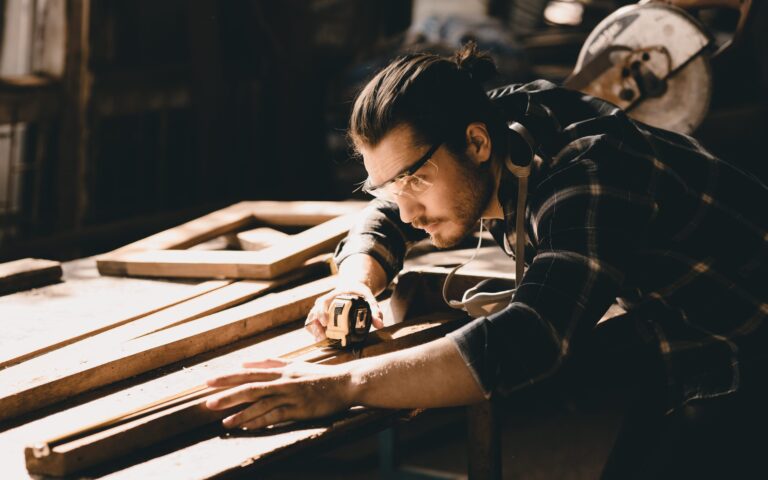 Years of Experience
Just like you wouldn't rebuild a car engine if you didn't know how, you should only let the New Holland Church Furniture experts help with reupholstering your pews. Our years of experience mean that we know the best methods for refreshing your pew cushions, like providing rope welting at the ends of the seats. Not only does this create a tailored look against the pew end panels but helps provide a longer lasting upholstered seam.
---
What's It Like Working with Us?
We understand how important the elements of your worship space are to you. We'll treat all your furniture with the utmost respect and dignity it deserves. But don't just take our word for it! See what some of our satisfied customers have to say!
"New Holland came to us to work on a renovation project for our chapel. As with all renovation projects, the goal date to consecrate our new altar was nearing, and to complicate matters, we had requested a change order. This did not allow much time for New Holland to accommodate us, but they said they would do their absolute best. They did not do their absolute best….they performed a miracle, and our new beautiful pews were installed for the consecration. New Holland's staff, especially Judy "the pew lady," are professional, they offer excellent selections and provide experienced, helpful ideas, they produce quality products, and they go above and beyond for their customers. Highly recommended."

Nancy Nahrebne, via Google
"Thank you for your contribution to help build the Provo City Center Temple. We acknowledge the high level of skill, perseverance, and professionalism that were needed to complete this project. We appreciate your work ethic and ability to overcome the many difficulties and challenges that were constantly present. Your company and workmen are to be commended for their diligence, competence, and efficient manner in which they continually performed their daily labors."

Andy Kirby, Provo City Center Temple – Provo, UT
---
Ready to Start Reupholstering Your Pews? Call Us Today!
Your church or synagogue deserves the best seating available, so when the foam or fabric on your cushioned pews has seen better days, it's time to call New Holland Church Furniture for pew reupholstering! We can help you refresh the look of your sanctuary without breaking the budget! Your new reupholstered church chairs and benches will create the ambiance you desire in your worship space.
Give the experts at New Holland Church Furniture a call today! We will give your church and synagogue pews and chairs a fresh, like-new look that makes worship services more comfortable for congregations of all types. With the expertise and craftsmanship of our team, you can count on us to help you get the look you want for your sanctuary!