You need plenty of options when you want furniture that aligns with your church or synagogue's vision, values, and aesthetics. Don't settle for the same upholstered church pews that everyone else has. Instead, find comfortable, durable, and unique finishes for your new pews, benches, and chairs. Let us help you create an inviting atmosphere that promotes community and connection while respecting your religious beliefs. Get in touch with one of our reps today!
Wood Church Pew & Chair Designs
A primary feature in any synagogue or church is the furniture. After all, it's where your worshippers sit weekly to hear the sermon and praise their Creator. Selecting the right church pew design; end panel, and back style, seat finish, and upholstery ensures your synagogue or church furniture is perfect for your worship space. There are also options for different types of chairs and the specifications for the pew style. Learn more by browsing through the various options below.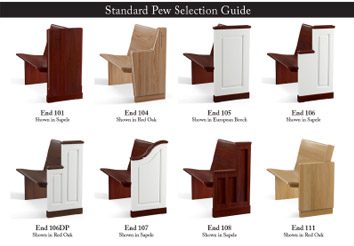 As you begin purchasing new synagogue or church pews, you'll have several design considerations to make. First, what type of pew end do you want? A full pew end with an ornate design or something simpler and more open? Next, take a look at your options for pew bodies. Do you want a wooden church pew or upholstered pews? Should the seat and back be contoured or flat? View all of your choices here!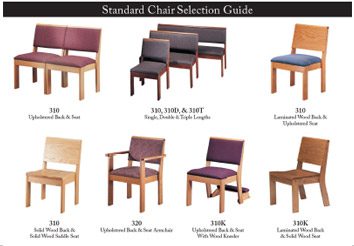 Maybe pew seating doesn't work for your worship space. In that case, we have plenty of chair options for you. Choose from chairs that are single, double, or triple length for your congregation's comfort. You can also choose upholstered seats and back, just the seat, or none at all. Add accessories like chair arms, wood kneelers, interlocking pins, and custom-routed back designs. See more in the guide!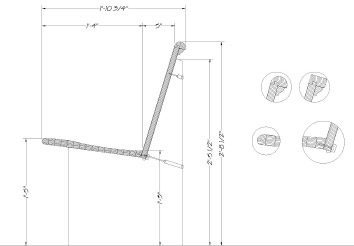 Wondering about the technical drawings of our pews? If so, then we have the pew specifications for you! Each pew shape has the exact inches and specifications listed for your convenience. Compare and contrast the synagogue and church pew upholstery shapes and dimensions and consider the comfort and durability of each. These drawings will help you better visualize the construction of your new furniture.
Upholstered Church Pew Fabric & Wood Finish Options
Once you have picked the pews and chairs that will work best for your worship space, it's time to think about the finishing touches. If you choose to have upholstered pews, there are plenty of fabrics for your upholstered seat and/or back. You'll also need to select the finish of your wood, which may differ between your pew ends and your pew bodies. Finally, check out some of our previous installation videos to better understand what is involved with our professional installation services.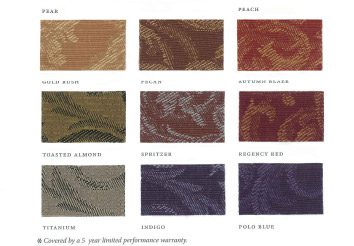 When it comes to selecting the fabrics for your upholstered church pews or synagogue seating, there are plenty of designs and color options. From solid color fabrics that are a bit plainer to ones with stunning patterned designs, you're sure to find the right one for you. We tightly stretch the fabric using even pneumatic pressure with edges tucked, folded, and stapled to the under seat for a durable finish.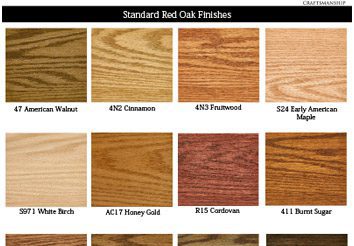 Your wooden church pew or synagogue bench wouldn't be complete without the right finish. Choose from various shades of stains, like a beautiful light white birch or a dark mocha color. Each piece of wood furniture we craft is carefully stained in your selected color. You can also match the stain of your new furniture to your existing furniture for one cohesive look that will bring new life to your space.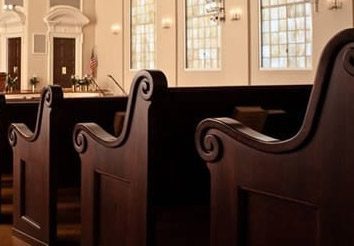 After over 70 years of designing, crafting, and installing wood church pews and synagogue seating, we have plenty of examples of previous projects we completed. Check out our installation video library to hear directly from our customers about their experience working with us. You'll also see the inside of these unique worship spaces and the beautiful furniture uniquely crafted for each place. Watch the videos now!
Looking for Inspiration?
If you are thinking about new furniture for your church or synagogue but lack ideas on what you'd like to see, we have you covered! View samples of our previous works in the furniture inspiration gallery and browse our lookbook for further examples of the intricate woodwork we can do!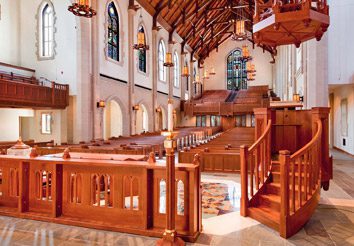 In addition to the finishes available for our seating options, the same wood stains apply to other church or synagogue furniture. You can see photos of our various past projects, including pews, radius curved pews, bimahs, lecterns, and more.
The Uniquely Custom Lookbook is a digital magazine that allows you to see details of previous jobs we completed. Admire each piece's detailed craftsmanship as you browse through the interiors of different worship spaces. You'll find the inspiration you need.
Why Should You Choose Us for New Synagogue or Church Furniture?
New Holland Church Furniture has been a leading manufacturer of radius curved pews since 1962. With more than 70 years of combined experience in custom craftsmanship, we aim to exceed customer expectations on every project. From the initial design discussions to delivery and installation, we provide excellent project coordination and communication, on-time delivery, and flexibility to work with customer schedules.
When designing and purchasing custom church furniture or synagogue furnishings, New Holland Church Furniture is the trusted source for bringing the vision of your worship space to life.
Ready to Start the Interior Design of Your Church or Synagogue?
Whether you're looking for new upholstered church pews, curved radius synagogue pews, chairs, or combination seating, we can help! Our various pew designs, fabrics, and finishes put you in control of the cost of your new pews, allowing you to make selections that work within your budget. We can also help with pew reupholstery if you are looking to refresh the look of your existing pews. Contact your local rep today to learn more about what we can do for you!