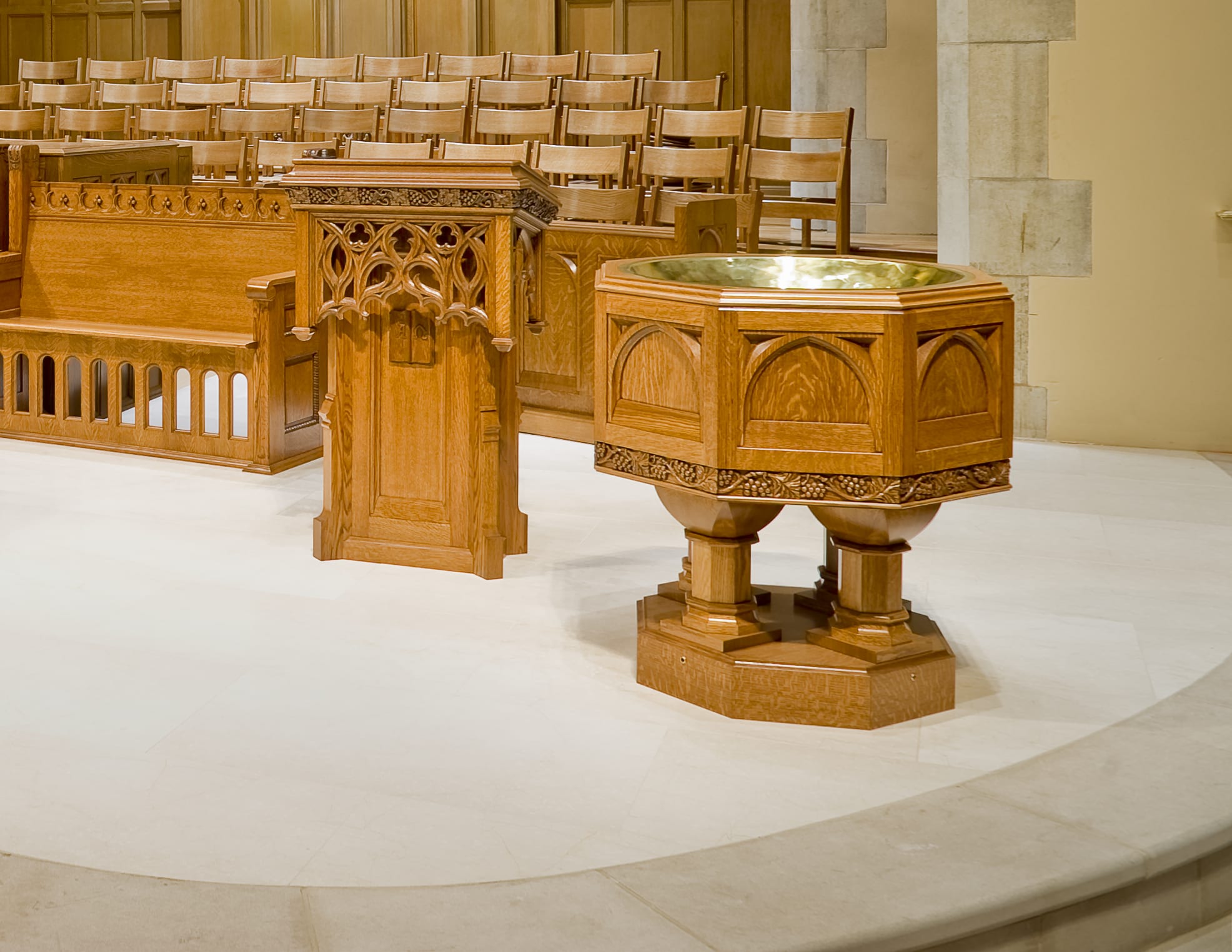 Experienced Craftsmanship for Over 70 Years!
Whether you're renovating your church or building a new worship space, your choice of baptismal font sets the tone for your baptism ceremonies. You may wish to design a new church baptismal font to resemble one your congregation cherishes closely, or you might want to create an entirely new design.
No matter what you decide, New Holland Church Furniture can work with you or your designer to design and build a church baptismal font that meets the needs of your church. We can even customize your wooden baptismal font with emblems, logos, or insignias, match the color to other church furniture, or add design elements that complement your church pews.
With over 70 years' experience, our team has manufactured and installed church furniture all over the world, including the United States, Canada, Bermuda, the Caribbean, and South America.
Baptismal Fonts Examples:
Get Inspired:
Find a Rep
Serving the United States, Canada, Bermuda, the Caribbean, and South America
More Worship Furniture Styles:
Customized For Your Worship Space
At New Holland Church Furniture we set the industry standard for worship furnishings and take pride in every piece of furniture we produce. Our goal is always to exceed your expectations. That means we pay close attention to every detail so you and your congregation can enjoy the beauty and durability of your furniture for years to come.
Choose Your Wood
Your baptismal font can be manufactured in any combination of wood species including Red Oak, Maple, Cherry, Sapele Mahogany, European Beech, White Oak and many more.
Top-Quality Construction
We use time-honored construction techniques to ensure the strength and longevity of your baptismal font for years to come.
Endless Customization Options
Whether your needs are simple or elaborate, our team can meet them. We can customize your baptism font with as much or as little detail as you like. We can also work closely with your design team to offer you valuable input regarding design, manufacturing, and budget.
Find a Rep
Serving the United States, Canada, Bermuda, the Caribbean, and South America
More Worship Furniture Styles: