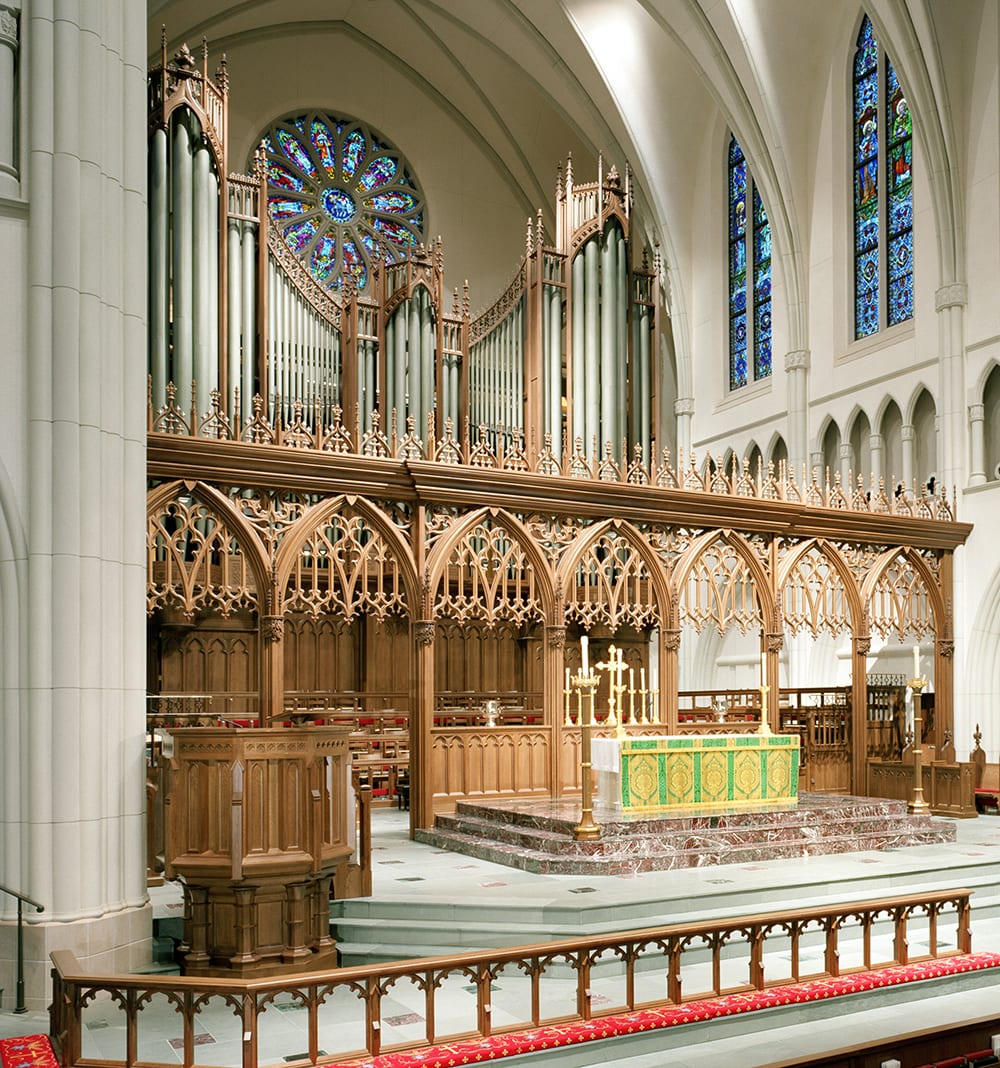 Elevate Your Worship Space
with Custom-Crafted Interior Church Architecture
In today's world of modern church designs and religious architecture, creating an inspiring and uplifting worship space is essential for fostering a strong spiritual community. At New Holland Church Furniture, we understand the importance of interior church architecture in shaping the overall worship experience.
With over 70 years of experience, we specialize in designing, creating, and installing custom wood architecture for churches and synagogues, ensuring a seamless blend of tradition and innovation. We'll help you tell your church's story in an engaging, aesthetically appealing way. From intricately adorned organ cases, retablos, and reredos to rood screens and icon screens, we can custom-craft the architectural woodwork in your church to complement your worship experience.
Don't let outdated or uninspiring design elements hold your congregation back. Our team can help you with every aspect of your project, from design to final installation. Whether you're remodeling an existing church or building from the ground up, we work closely with your design team to offer valuable input and ideas that work with your budget. Contact one of our representatives today to discover how we can help you create a truly remarkable worship space.
What Improvements Does Your Synagogue or Church Interior Need?
Religious architecture has inspired and engaged worshippers for centuries. From great Roman Catholic cathedrals to modest parishes, both interior church architecture and exterior elements tell a story and communicate the values and culture of your church's community without saying a word.
Our skilled craftsmen have extensive experience creating stunning woodwork for various religious spaces, including traditional Catholic churches, modern churches, Orthodox synagogues, and more. From intricately carved pulpits to beautiful stained glass windows, our architectural designs will elevate your worship space in aesthetics and functionality. See some examples of our work below.
Church Woodwork Examples:
Get Inspired by Our Past Projects
We invite you to explore our portfolio of completed projects, showcasing the wide range of religious buildings we have transformed with our custom interior church architecture. From traditional Catholic churches and Orthodox Jewish synagogues to modern church designs to Reform Jewish temples, we have the expertise to create a space that reflects your congregation's values and vision.
Find a Rep
Serving the United States, Canada, Bermuda, the Caribbean, and South America
More Worship Furniture Styles:
Exceeding Your Expectation with Craftsmanship that lasts for generations.
We set the industry standard for architectural woodwork at New Holland Church Furniture. We take pride in each custom-crafted piece, including organ cases, retablo/reredos, rood screens, icon screens, and more.
Our team of experts is dedicated to providing you with an unparalleled level of service, from design consultation to final installation. We work closely with you to develop a solution that aligns with your budget and architectural vision, ensuring that your church interior exceeds all expectations.

Choose Your Wood Species
We can create interior church architectural elements from just about any wood species, including Red Oak, Maple, Cherry, Sapele Mahogany, European Beech, White Oak, and many more. You also have your choice of wood finish and fabric color and design if getting upholstered furniture.

Top-Quality Construction
We use time-honored construction techniques to ensure the strength and longevity of your architectural woodwork for years to come. Whether you want us to enhance your existing interior church architecture or create something new, you can count on our quality and craftsmanship.

Endless Customization Options
Every interior architectural element we create is completely customized for your worship space. Whether you'd like to match the look of aging architectural elements or add intricately carved details, we're here to bring your traditional or modern church designs to life.
Get the Interior Synagogue or Church Architecture You've Always Wanted
Don't settle for anything less than the best in your worship space. With New Holland Church Furniture, you can achieve the perfect balance of form and function, creating an atmosphere that fosters spiritual growth and connection within your congregation. Investing in custom interior church architecture is essential in creating a truly inspiring worship space that will serve your community for generations to come.
Our team at New Holland Church Furniture is ready to collaborate on designing, creating, and installing the perfect architectural elements to elevate your church or synagogue. Don't let another day go by without taking action. Contact one of our representatives today to begin your journey toward a more beautiful and inspiring place of worship.
Find a Rep
Serving the United States, Canada, Bermuda, the Caribbean, and South America
More Worship Furniture Styles: