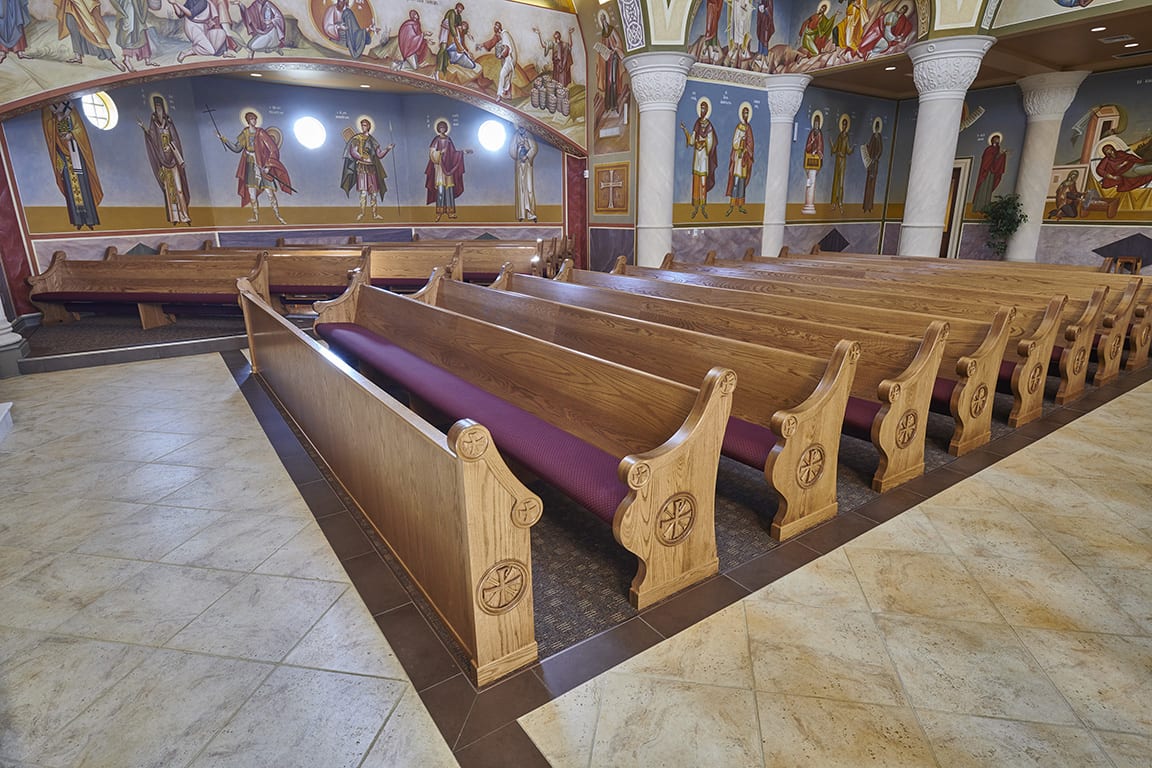 When it comes to creating a worship space that allows congregants to worship God without distractions, having a high-quality church pew bench can make a significant difference. Whether you're building a new worship space, or if your church or synagogue needs a seating upgrade, contact New Holland Church Furniture to get started designing wooden church pews or straight synagogue benches that work best for your building.
Your Church or Synagogue Furniture Shouldn't Prevent You from Connecting with God
Old, worn church pews or aged, overused metal chairs can not only be unsightly, but they can be a distraction when trying to worship your Creator. It's difficult enough to stop thinking about everything going on in life during a worship service, and sitting in uncomfortable seating in your worship space doesn't make it any easier. With new wooden church pew benches from New Holland Church Furniture, you can take away that distraction.
Whether you're building a new worship space, renovating your existing church or synagogue, or replacing aging church pews, the decisions you make today will affect your congregation for years to come. That's why it's so important to work with professionals who genuinely understand pew design and manufacturing.
At New Holland Church Furniture, we've been manufacturing church pew benches and wooden church pews for over 70 years. In that time, we've gained the knowledge and expertise to provide distinctive artistry you just won't find with other pew manufacturers.
---
Getting New Church or Synagogue Furniture Has Never Been Easier!
We start by listening to your needs. In some cases, you might choose to replace only the church pew bodies, preserving time-honored pew ends beloved by the congregation. While in other instances, you might want to break tradition and design something entirely new. Regardless of your needs, we work with you to design and build church pew benches and wooden church pews that you'll be proud to use for generations to come.
Select A Pew Body Type Choose Your Pew End Design
---
Church Pew Bench Examples:
Investing in new synagogue or church furniture can be a daunting task. From worrying about how your congregation will respond to choosing the right type of seating for your worship space, there's a lot of pressure on someone tasked with finding new seating options.
At New Holland Church Furniture, we make the process as easy as possible. There are virtually endless possibilities to get the right church pews for you. You can choose from a variety of straight pew bench styles, including:
Wooden seats and backs
Upholstered pews with wooden backs
Upholstered seats and backs
The backs of the benches can be made flat or contoured, based on your preferences. We only use the best solid lumber of your preferred wood species, selected for color and texture and free of knots or defects. This selectiveness in the wood quality means that the wooden benches from New Holland Church Furniture are high-quality and extremely durable.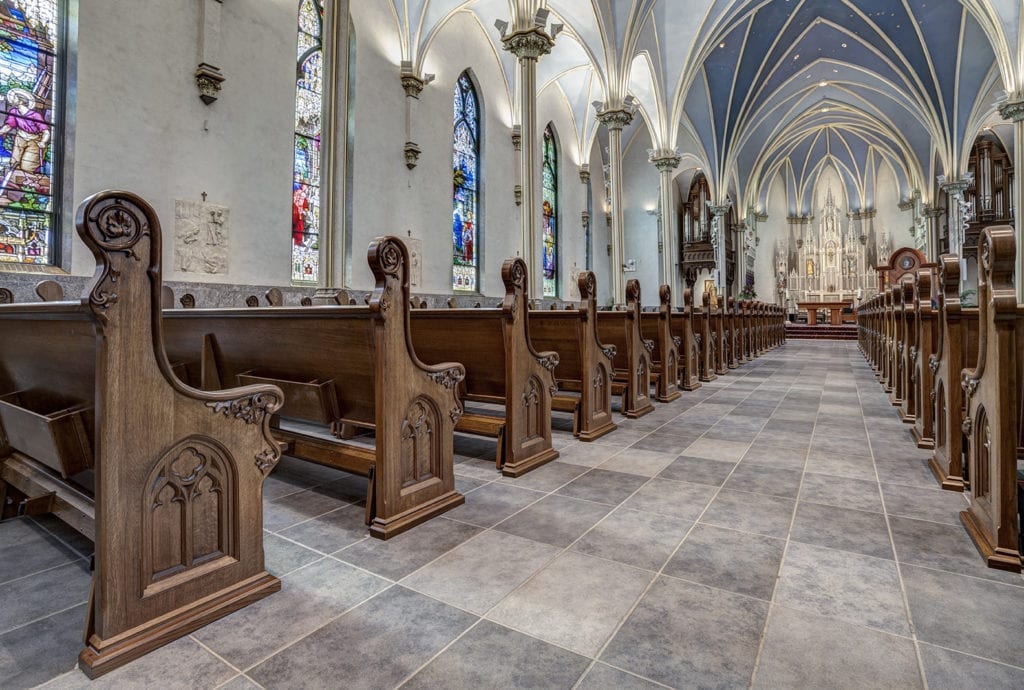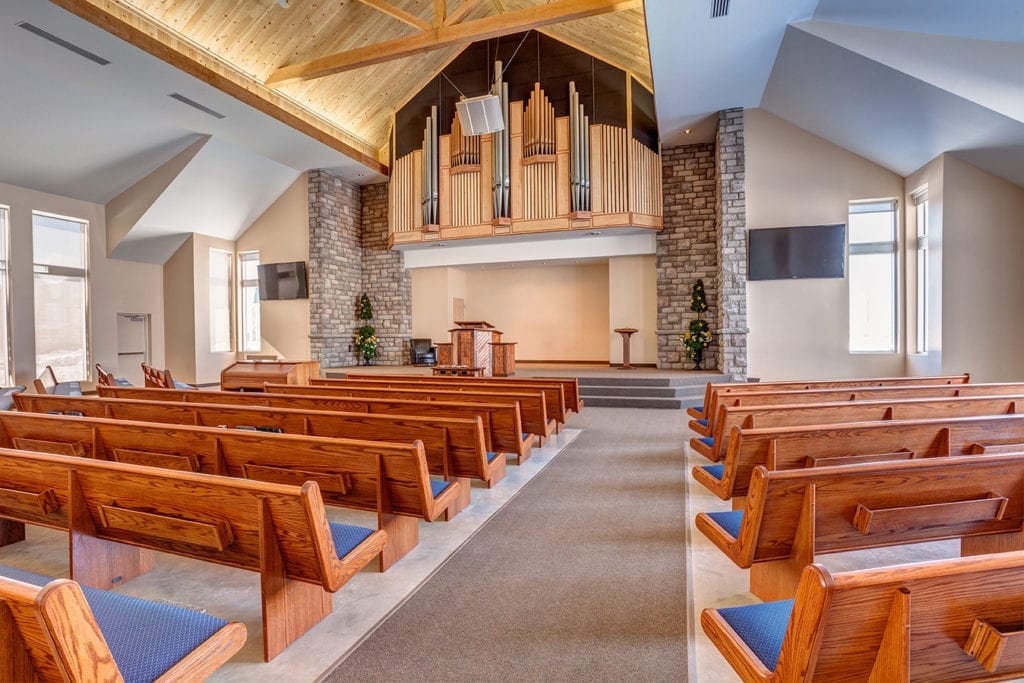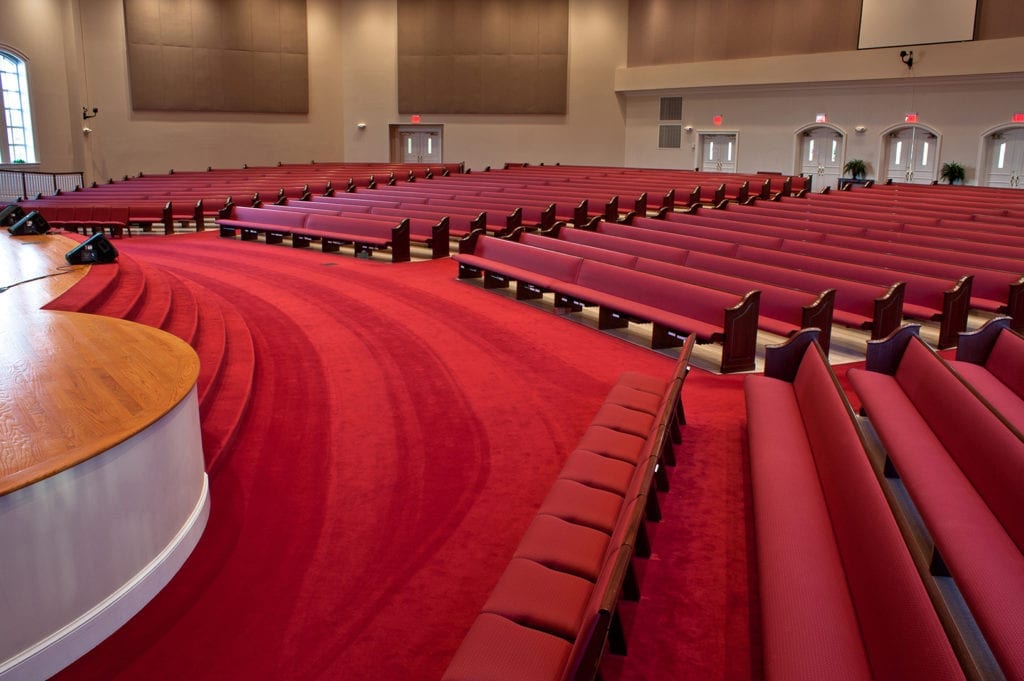 Need inspiration for your church pew bench or synagogue seating design?
Whether you favor a wooden church pew or rich upholstery, we can match your style preferences perfectly.
Get Inspired to Create a Church Interior You and Your Congregants Love
With so many customization options and codes to consider, it can be challenging even to get started thinking about the church pew design that works best for your space. Luckily, after manufacturing church furniture and worship seating for more than 70 years, New Holland Church Furniture has plenty of examples of church and synagogue installations. Check our inspiration gallery for exquisite ideas from our past projects and if you need further design assistance, contact one of our friendly reps!
Find a Rep
Serving the United States, Canada, Bermuda, the Caribbean, and South America
More Worship Furniture Styles:
---
What Makes Our Church Pew Bench Ends Exceptional?
In addition to the exceptional wood we use to craft your pews, our pews are created with old-world craftsmanship combined with modern technology to create truly exquisite pew benches and bench ends. You may select from our standard pew bench offerings or have us create a completely customized and unique piece for your church or synagogue. Plus, our team of expert designers can work to creatively reuse portions of cherished antique church pews or sentimental elements of existing furniture in your new design.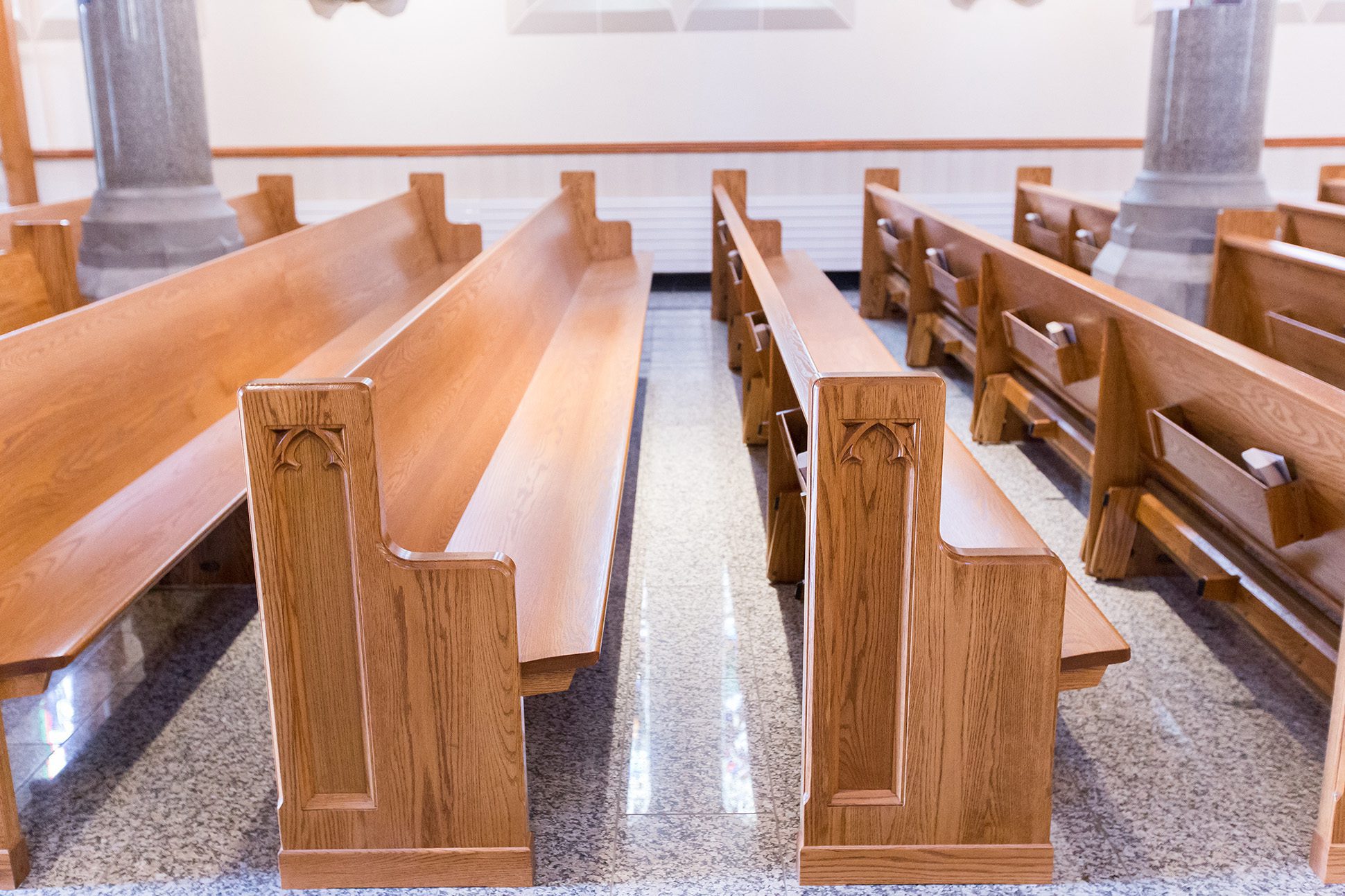 New Holland Church Furniture Sets the Industry Standard
We are the premier manufacturer of wooden church pews because we only demand the best from our suppliers and workers.
Particleboard is NEVER used for our wooden church pew ends or any pew body style.
We use the highly wear-resistant Architectural Woodwork Institute (AWI) premium grade conversion varnish finish system.
Church pew bench ends can be manufactured in virtually any wood species, including Red Oak, Maple, Cherry, Sapele Mahogany, European Beech, White Oak, and many more.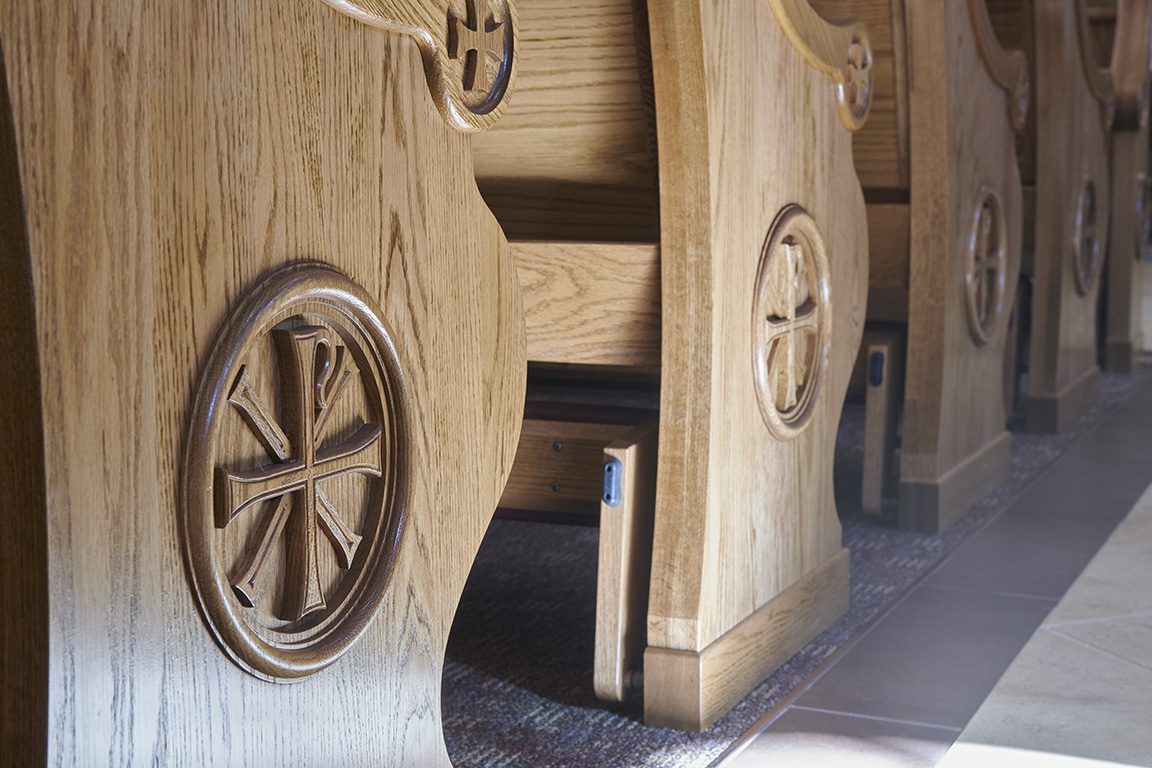 We Work with You to Create Custom Straight Pews
Whether you'd like to re-create a time-honored design or design something entirely new, we can work with you to add cherished detail to your church pew bench ends, including:
Routed designs
A variety of edge-cut designs to complement the end panel
Matching details from an existing pew end design
Reuse existing beautiful antique pieces from your worship space to keep with tradition
Restoration of heirloom pieces to sustain them for future use
Pew Body Styles that Work Best for Your Worship Space
Pew comfort is a significant factor that can affect your worship experience. We can accommodate your comfort requirements with a variety of pew body styles and services:
Contoured wooden church pew bodies
Upholstered pew bodies for extra comfort
Custom church pew bench bodies
Designing a worship space for maximum seating capacity
Reviewing ADA-accessibility requirements
Code-compliance assistance
---
The Benefits of Straight Church Pews
After viewing so many of our past pew projects, it's no wonder that people choose straight benches from New Holland Church Furniture. There's an old-world charm and beauty of traditional wooden church pews. There are numerous benefits to choosing straight church benches, and we think you'll find that transforming your church or synagogue using beautiful, wooden church pews or custom bench seating enhances your worship experience.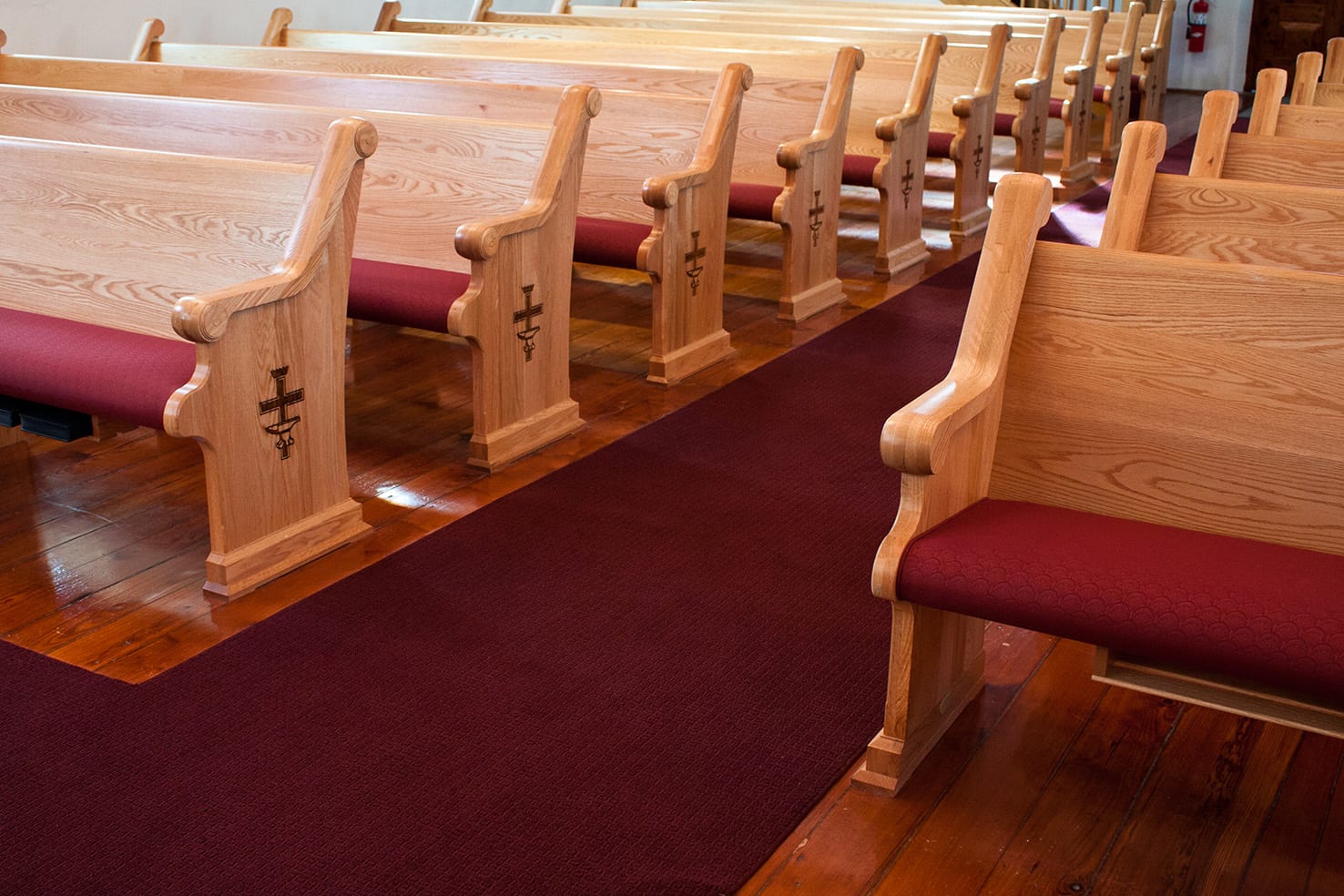 Straight Benches are Comfortable for All
Whether you choose upholstered pew benches and backs or all-wooden seating options, you'll find that our straight pew benches are comfortable. It puts people more at ease because they can stretch out and enjoy more personal space. Plus, we can create accommodations for those in wheelchairs to feel more included in the worship services.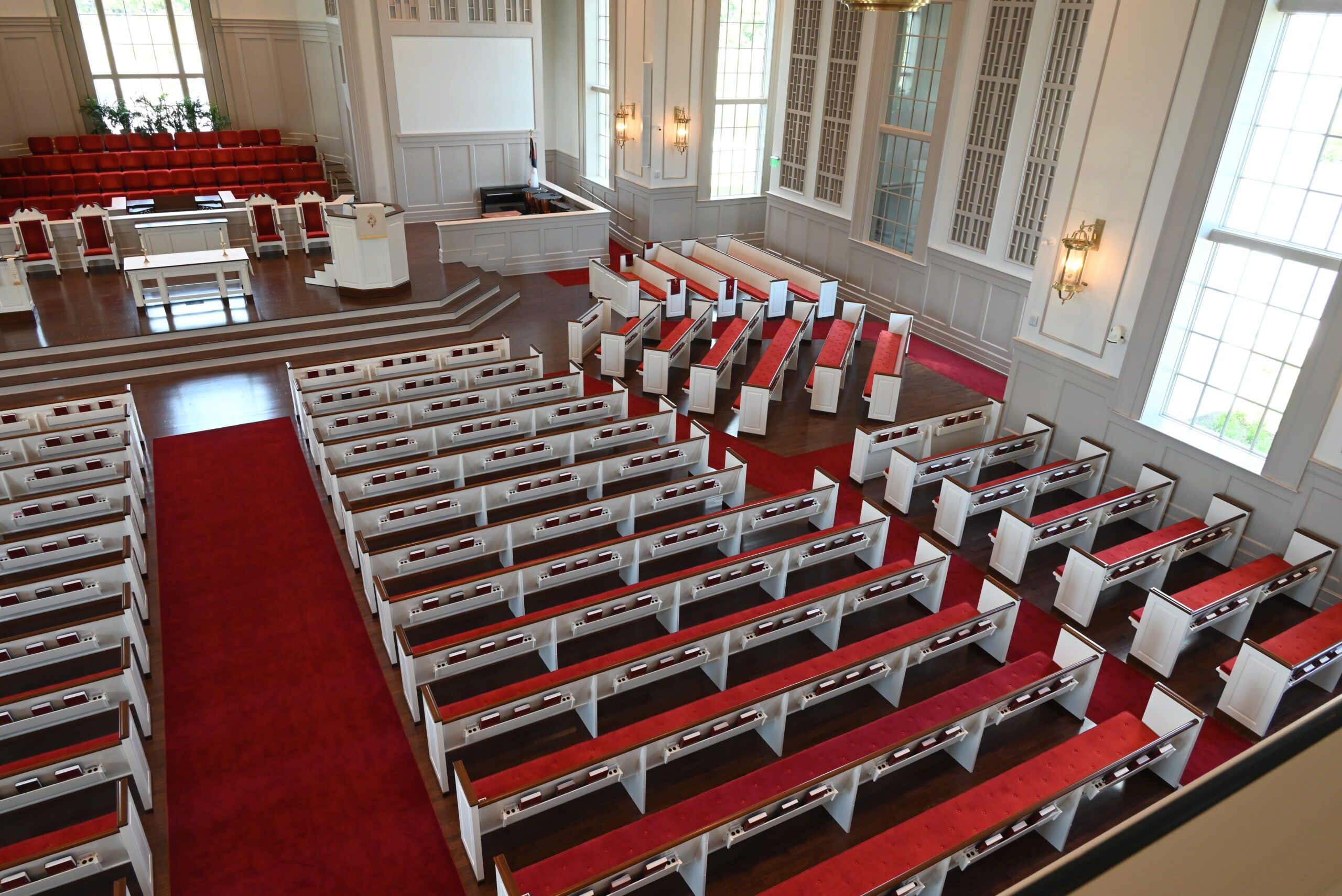 Arrange Pews in a Variety of Ways
While you may think of just straight rows of pew bodies that face the sanctuary, chancel, or bema, there are numerous ways to arrange straight pews. For example, you can do angled rows to provide a more communal feel to your worship space and improve acoustics. You can also fan the rows to maximize closeness and allow better views from the back.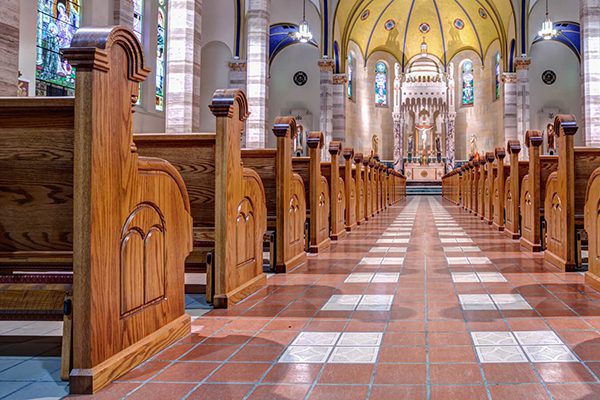 Wooden Church Pews Keep with Tradition
For churches steeped in rich history, keeping straight wooden church pews is an excellent option. Not only does it provide a traditional feel for your worship space, but using wood for your benches is sustainable, can improve your health, and looks stunning in any worship space. You'll keep with tradition while enhancing the look of your church.
---
Ready to Get Started with New Church Pew Benches? Contact Us Today!
Selecting new church pew benches doesn't have to be complicated. With New Holland Church Furniture, our goal is to exceed your expectations. We want you to be happy and comfortable in your building with seating that maximizes focus on worship and religious services. With straight church pew benches, we can make that goal a reality.
Contact us today to get started and see the difference we can make within your church or synagogue.
Find a Rep
Serving the United States, Canada, Bermuda, the Caribbean, and South America
More Worship Furniture Styles: