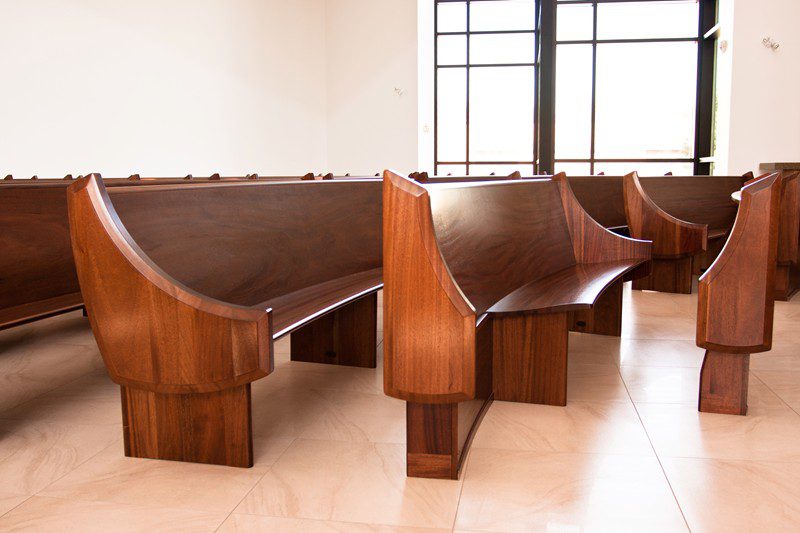 The Americans with Disabilities Act (ADA) made great strides in the United States by requiring many organizations to provide accommodations for people with disabilities. Yet, religious organizations are exempt from this law. However, churches and synagogues should still make sure their worship space is accessible to everyone.
Here at New Holland Church Furniture, we are committed to providing worship centers with high-quality modern church pews that are more accessible to all worship attendants than current pews in older buildings.
Beyond church furniture, worship centers can ensure accommodations exist outside the building and during the worship service to accommodate those who need it.
Install Modern Church Pews
Aging church pews in older buildings can not only be unsightly and take away from the worship experience, but they can also make people in wheelchairs feel uncomfortable. There may be no wheelchair spaces available, and the pews may be too close together to allow easy access.
The solution is to replace the existing benches with modern church pews, like the stunning wood radius curved pews from New Holland Church Furniture.
Why Radius Curved Pews?
Radius curved pews utilize more of your worship space and create an intimate environment for your worship services. Plus, our designers can ensure there is the correct number of wheelchair spaces and that they are dispersed throughout the synagogue or church interior. Installing new pew bodies also ensures you have wheelchair-accessible routes that are at least 36-inches wide. Find a rep today to get started.
Ensure Worshippers Can Enter Your Building
Having new beautiful church seating can make a world of difference for worshippers who use a wheelchair. But you should also consider how worshippers who need assistive mobility devices access your building. To do so, put yourself in their position and imagine entering your building.
First, make sure there are adequate, accessible parking spaces. The spaces should be clearly marked as handicap spaces, with additional clearances allowed for van-accessible spaces.
Next, make sure some ramps are at least 36-inches wide, with a stable, slip-resistant surface so worshippers can easily make it from their vehicles to your building's door. You'll want to ensure the main entrance is accessible with automatic doors or equipped with a button to open the doors.
The carpets or mats at the entrance should not be thicker than ½ inch, and the edges should be secured to minimize tripping hazards.
Accessibility Inside the Worship Center
The goal of having an accessible worship center is that those who need additional accommodations don't feel embarrassed or excluded from others. Beyond installing modern church pews that can accommodate wheelchair access, there are several other ways to make your space more inclusive, including:
Ramps that lead up to the main stage to allow participation in the worship service
Worship furniture that is at wheelchair height
Accessible bathrooms and water fountains
Slip-resistant floors
Braille signage
Worship Service Accessibility
Finally, don't overlook ways to make your actual worship service more inclusive to those with various disabilities. Since you likely have worshippers who require assistance beyond wheelchair accessibility, it makes sense to ensure that they can equally participate in worshipping their creator. For example, for those people with vision difficulties, provide large-font holy books and programs for easier reading.
Folks with hearing issues benefit from added subtitles to videos shown during services and being provided with a listening device to hear the speaker better. For large gatherings, having a sign-language interpreter present at the service is a fantastic addition.
Other folks with cognitive difficulties may benefit from having an order of the service to follow, as sometimes, not knowing what to expect can induce anxiety. Livestreaming your service is also another option for people who can't physically make it to the service.
Welcome All Worshippers Equally
When it comes to making your worship space more accessible for everyone, New Holland Church Furniture knows that it begins with a conversation about your specific needs. View our inspiration gallery online, then find a rep to get started on your building's transformation! Our representatives are located throughout the United States, the Bahamas, Canada, South America, and the Virgin Islands and are ready to help you make your worship space more inclusive.