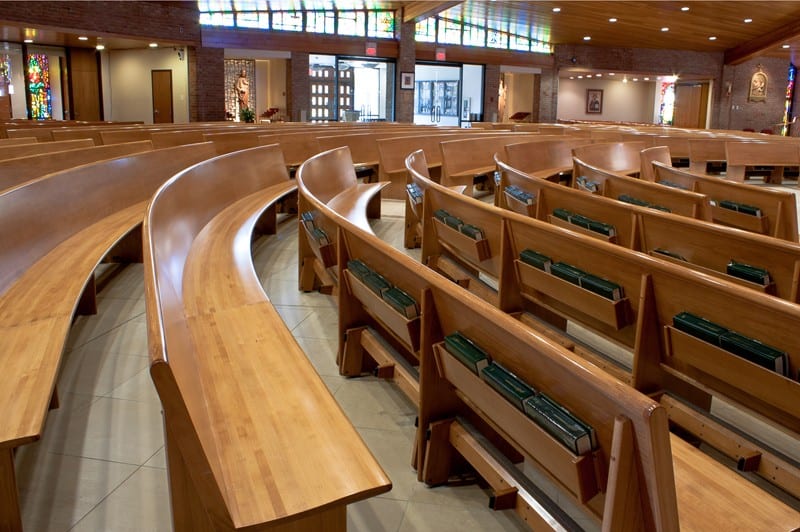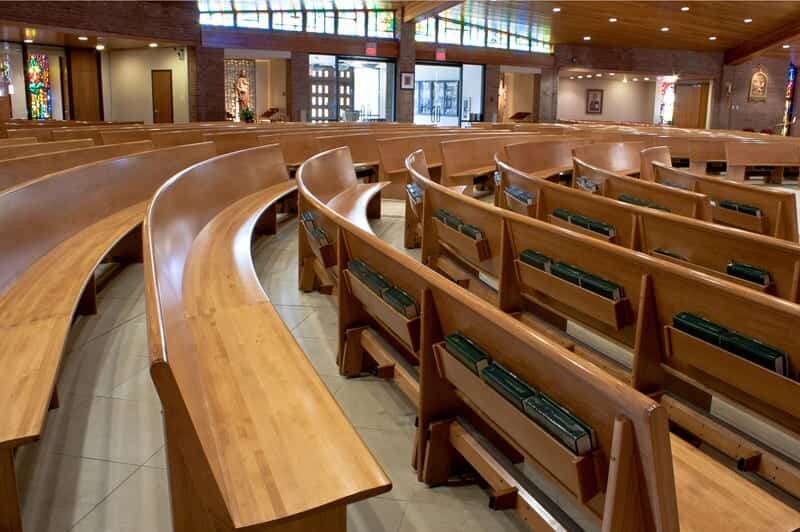 Whether you're building a new church, renovating your existing worship space, or simply updating church pews and worship seating for enhanced comfort, it's important to understand your options to ensure the best results for your unique congregation.
At New Holland Church Furniture, we custom-build a wide range of church seating options. From straight pews and church benches to radius curved pews, combination seating, and even stackable wood chairs, we handcraft it all. Our old-world craftsmanship is combined with modern technology to maximize quality, which results in church seating that will serve your congregation beautifully and comfortably for generations to come.
Uniquely Custom Church Seating Design: That's New Holland Church Furniture
We're artisans dedicated to elevating the worship experience, and we're here to listen to the ideas you have for your church. We are ready to work closely with your design team and provide valuable input on every aspect of upgrading your church seating—from design specifications to manufacturing, budgeting, and installation.
---
Church Seating Options
Straight church pews are the typical design many people think of when they imagine church seating. However, there are so many more options—our unique curved radius pews, stackable church chairs, and even theatre-style combination seating. Explore our range of church seating options and get inspired.
Over 70 Years of Experience
Our team has manufactured and installed church pews and worship seating all over the world, including 700 radius curved pew installations throughout the United States, Canada, Bermuda, the Caribbean, and South America.
Calculating Your Church Seating
As you begin a renovation process on your existing worship space, you may think you know your seating capacity—especially if you plan to replace straight pew benches with new or creatively repurposed straight pews.
Of course, your capacity number can be complicated by architectural elements in your seating areas, such as columns or posts, and also by the type of church seating you want to use. Radius curved pews, for instance, may allow you to physically fit more individual worshipers within a space, simply based on the shape of the pew body versus straight benches. And, because we handcraft our pews without through-seat dividers, you'll have even more seating capacity thanks to better engineering.
So, how do you calculate your church seating capacity? The best answer is to trust the worship furniture design pros at New Holland Church Furniture. We can help you not just land on an official occupancy number but maximize your worship space for worshipper comfort, church seating flexibility, and more.
---
Guidelines for COVID-19 Safe Seating
As COVID-19 has raised concerns about how we can safely gather indoors in pandemic scenarios, many churches are finding that they have to establish reserved and assigned seating rules to satisfy social distancing guidelines. Additionally, enhanced cleaning and disinfecting procedures are being established and carried out for church seating.
Are you concerned that you are damaging your valuable wood worship furniture with harsh cleaning chemicals to satisfy more frequent cleanings? New Holland Church Furniture is here to help with advice and tips for protecting your valuable church seating during these challenging times. Get in touch with your questions, and also check out our safe disinfecting resource for wood worship furniture.
Get More Information On Our Blog
Find a Rep
Serving the United States, Canada, Bermuda, the Caribbean, and South America
More Worship Furniture Styles: