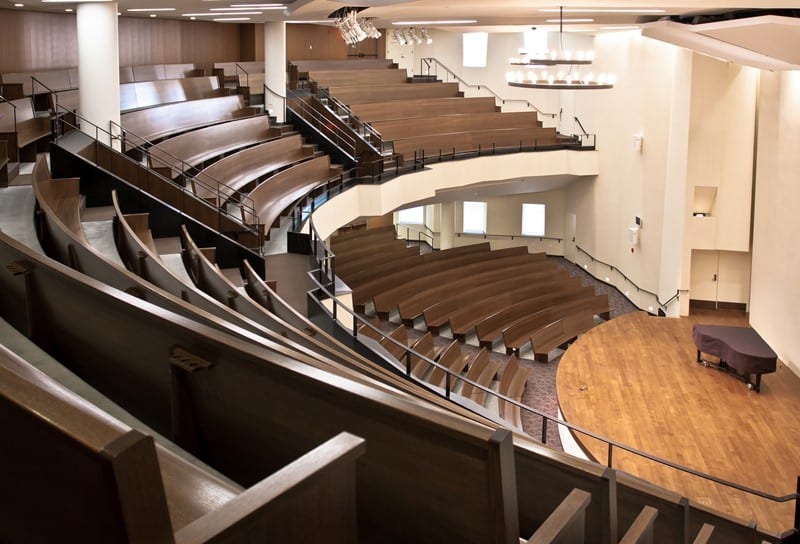 If you're not yet familiar with our work here at New Holland Church Furniture, there's one simple statement that gets to the heart of how we have approached worship furniture design, building, and installation through the decades: Custom is our Normal. And our most custom specialty may just be our radius curved wood pews.
Why? Because this furniture design style is signature to us. New Holland Church Furniture is the ONLY manufacturer of true radius curved pews since 1962. This gives us rare expertise in handcrafting these unique curved wood benches for congregations seeking to elevate their worship experience.
Today's blog post provides a brief trip down memory lane on just a few of our favorite curved pew projects from recent years. There have been over 700 of these installations in our long history, and each is completely customized for the congregation or institutional group we're working with. Read on to learn more about our unrivaled capabilities in creating this extraordinary worship seating style.
The Benefits of Radius Curved Pews
It's true that radius curved pews provide better seating efficiency in rooms of all sizes. And they have other benefits, as well. In fact, we covered the biggest of these in a previous blog post you won't want to miss.
To recap, curved wood pews facilitate a more intimate experience for masses, sermons, and special events. Each worshiper or attendee has a fantastic view of focal points in the room when seated on curved wood benches versus traditional straight pews. They may be able to hear more clearly, too.
Best of all, the unique structure of the curved pew body will often increase seating capacity without the need for a larger space expansion project.
Some Favorite Past Curved Pew Installation Projects
While it's nearly impossible to call out any of our past worship furniture and architectural woodwork projects as our favorites, there are some that showcase our abilities in particular ways. The following three installations are excellent examples of what handcrafting and delivering our radius curved custom worship furniture entails.
And, although hard work and extreme care are standard in every project we undertake, each experience is truly custom—and special—to everyone on our team.
Old St. Patrick's Church – Chicago, IL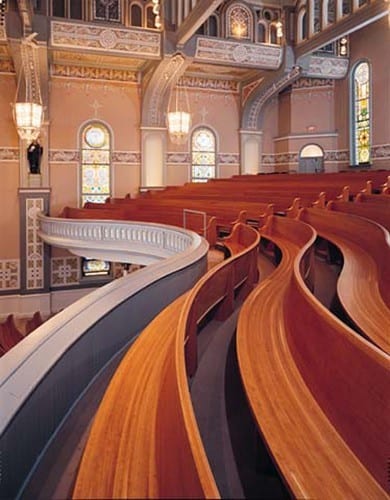 We crafted not just simple curved pew bodies, but graceful serpentine pew designs promoting unity, hospitality, and comfort for Chicago's oldest church, which has the distinction of being one of the few buildings to survive the Great Fire of 1871.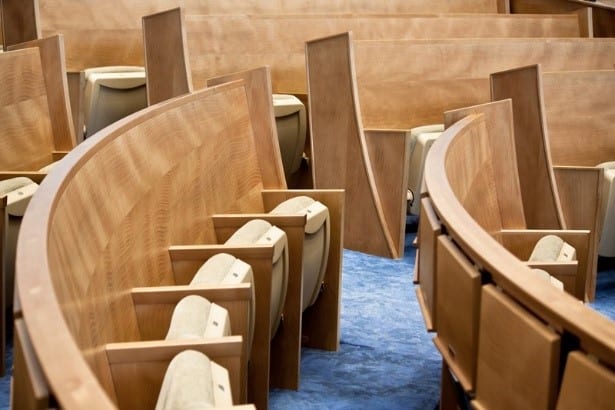 The intricate structure of these double radius pews at Old St. Patrick's Church makes them a standout in terms of engineering and aesthetics. You won't find anything comparable anywhere in the USA.
View all of the breathtaking photos of the interior of Old St. Patrick's Church in our inspiration gallery.
Lincoln Square Synagogue – New York, NY
At Lincoln Square Synagogue, the curved worship seating is actually what is known as combination seating. These curved wood backs are gracefully constructed of Cedar of Lebanon, while the seats themselves feature an individual theatre-style design. Combination seating is versatile and beautiful—often incorporating rich fabric upholstery—and this particular project is an ideal example.
See more photos of Lincoln Square Synagogue in our inspiration gallery now.
Bethany Grace Fellowship – East Earl, PA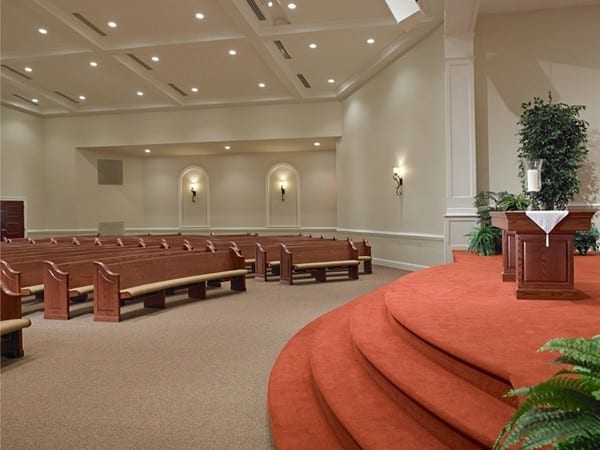 While our radius curved pew installations have taken us across the United States (including Alaska and Hawaii), Canada, the Caribbean, and South America, it's sometimes the projects right in our own backyard here in Lancaster County, Pa. that inspire the greatest pride. Our project for Bethany Grace Fellowship of East Earl is a prime example of our ability to do work near or far from home.
A dynamic and growing congregation, Bethany Grace Fellowship is only a few miles away from our headquarters here in New Holland, and we're inspired by their dedication to expanding our local faith community. We were more than happy to install the perfect radius curved pews to meet their congregation's needs.
View more photos of Bethany Grace Fellowship's understated and timeless radius curved pews.
The Next 58 Years of Curved Wood Pews at New Holland Church Furniture
We may have nearly 60 years of creating radius curved wood pews behind us, but we're excited for what the coming decades hold. New Holland Church Furniture is in it for the long haul, much like your historic congregation. When you are ready to elevate your worship experience with custom, all new or reinvigorated wood seating and more, we will be here and ready to serve you.
Flip through our digital Uniquely Custom Lookbook today to view more of our work, or get in touch with us to discuss your vision for improving your worship or other gathering spaces.