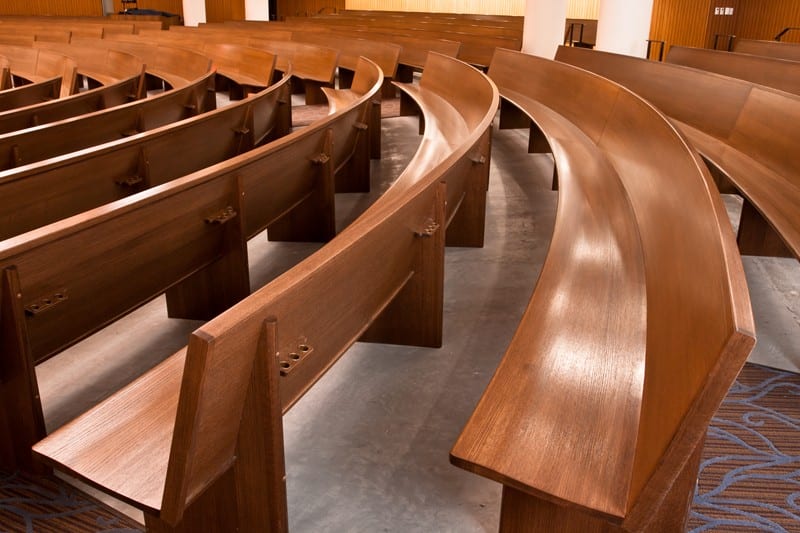 Elevate Your Worship Experience with a Curved Church Pew
Would you like to create a more intimate experience for sermons and special events? Want to give each worshiper a great view of key focal points and make it easier for them to hear everything more clearly? Need to increase your seating capacity without expanding your space?
The addition of a curved church pew may help you accomplish all of these goals and more, while still creating rich visual appeal that complements the architecture of any worship space.
Maybe that's why congregations of all denominations are embracing curved church pews for their worship services.
At New Holland Church Furniture, we specialize in curved church pews. In fact, we are the ONLY manufacturer of radius curved pews since 1962, with over 700 curved pew installations throughout the United States (including Alaska and Hawaii), Canada, the Caribbean, and South America.
Whether you're building a new worship space, renovating your existing church or synagogue, or simply replacing aging church pews, there's never been a better time to consider a curved church pew.
Pew End Panels (PDF)
Curved Pews Examples: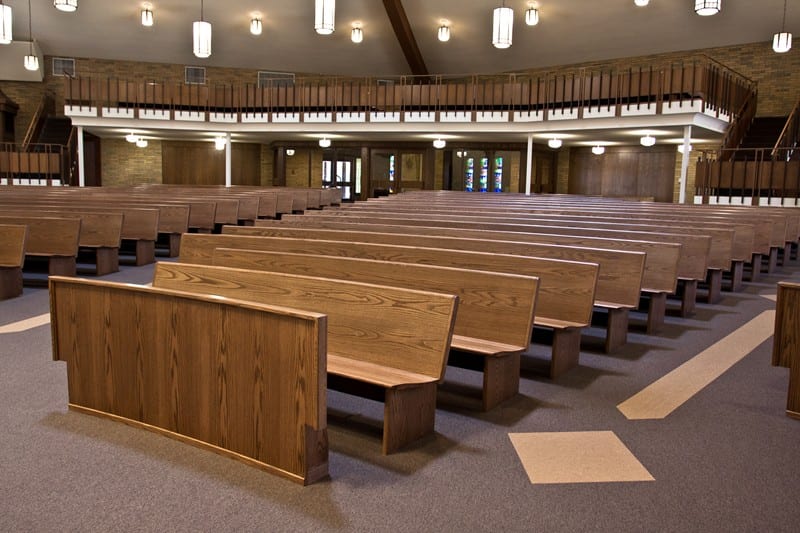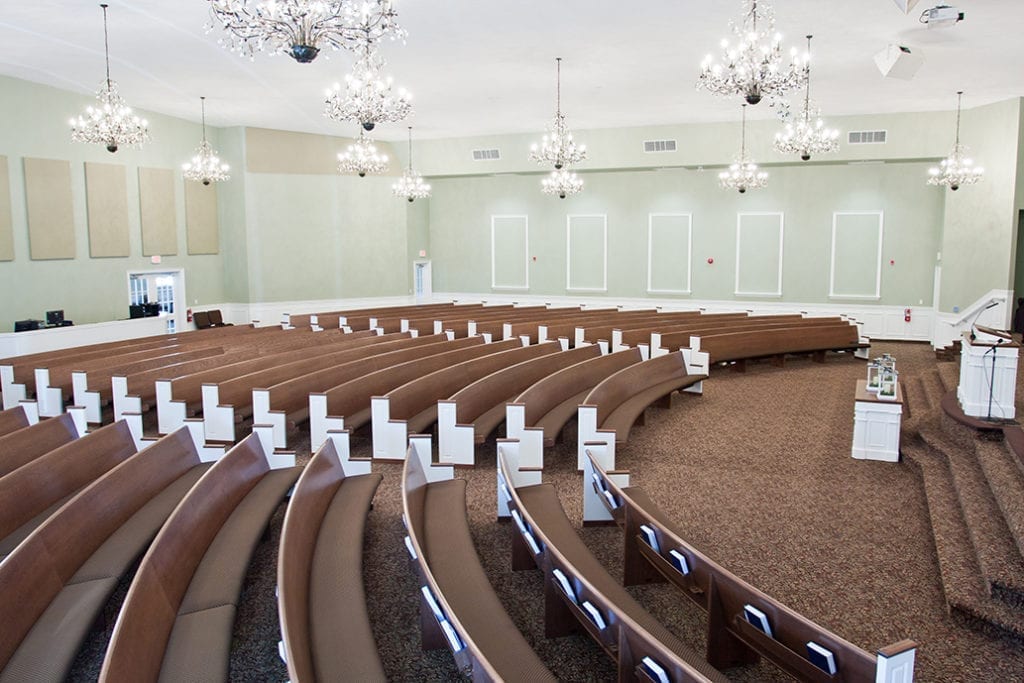 Ready to elevate your worship space?
Whether you favor wooden pews or rich upholstery, we can match your style preferences perfectly. When you want to be completely confident, New Holland Church Furniture is the place to go and has been the leader in radius curved church pews for over 50 years!
Get Inspired:
Find a Rep
Serving the United States, Canada, Bermuda, the Caribbean, and South America
More Worship Furniture Styles:
Handcrafted Curved Church Pews Outperform All Others!
Those seemingly endless rows of curved pews pose a difficult manufacturing challenge. Computer Aided Design (CAD) can help with design but no machine to date can custom-build those curves. The slope of the floor along with the angle of the seats and the incline of the backs represent major complexities. Add to that a subtle change in radius for every single row. Only sheer handwork on the part of very experienced craftsman can produce curved pews.
After completing over 700 installations we can say with confidence that we have mastered the craft, delivering curved pews your church or synagogue deserves and expects.
Features and Benefits:
Continuous pew bodies up to 22 feet
Manufactured without through seat dividers
Particleboard or Nova ply is NEVER used
Can be manufactured in virtually any wood species
Available in wood or upholstered pews to suit your comfort needs
All pew seats are functional unlike mitered or simulated radius pews which cause the loss of seating
All pew designs maximize kneeling
Need inspiration for designing your pews? Whether radius pews or straight pew seating, check out our Inspiration Gallery!
Find a Rep
Serving the United States, Canada, Bermuda, the Caribbean, and South America
More Worship Furniture Styles: