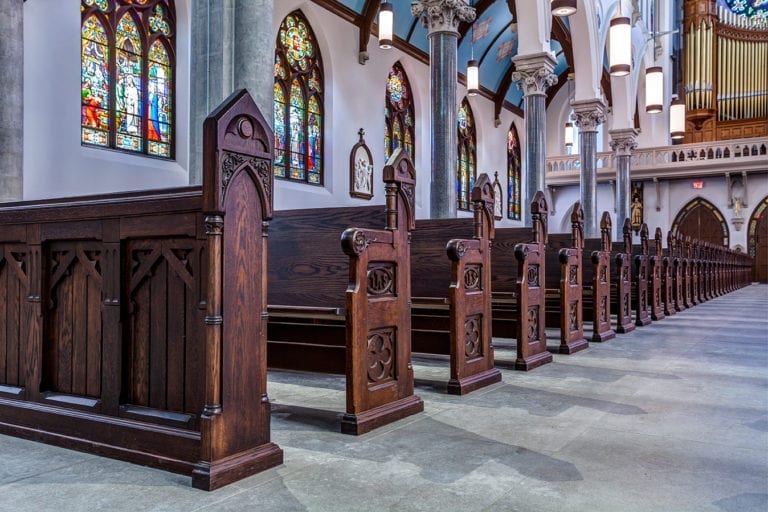 Building a new worship space or embarking on a renovation of your worship space doesn't have to mean abandoning features that are steeped in tradition. In fact, some of our favorite renovation projects at New Holland Church Furniture involve creative reuse of existing elements to enhance a church interior or the synagogue's worship space.
We define creative reuse as producing artistic work by creating something new out of the old.
If you love your existing pew ends, want to preserve existing furniture pieces, or even convert built-in elements into free-standing furniture, we can work with you on a variety of restoration projects to reclaim heirloom pieces and preserve them for future generations to enjoy.
We can also add architectural detail to existing pieces or even duplicate ornate patterns. Our expert artisans are happy to work with you to preserve and protect what is most meaningful for your congregation.
---
Get Inspired:
Here are just a few examples of successful church renovation projects that incorporated various elements of creative reuse. These projects demonstrate our versatility and the depth of our custom craftsmanship.
Basilica of Our Lady Immaculate – Guelph, Ontario, Canada
A Gothic revival style building built between 1875 and 1883, this majestic church was designated as a basilica by Pope Francis in 2014 after the completion of their long-awaited restoration. A challenging project where the unique late 19th-century end panels were restored, some requiring significant repair, and affixed to new pew bodies.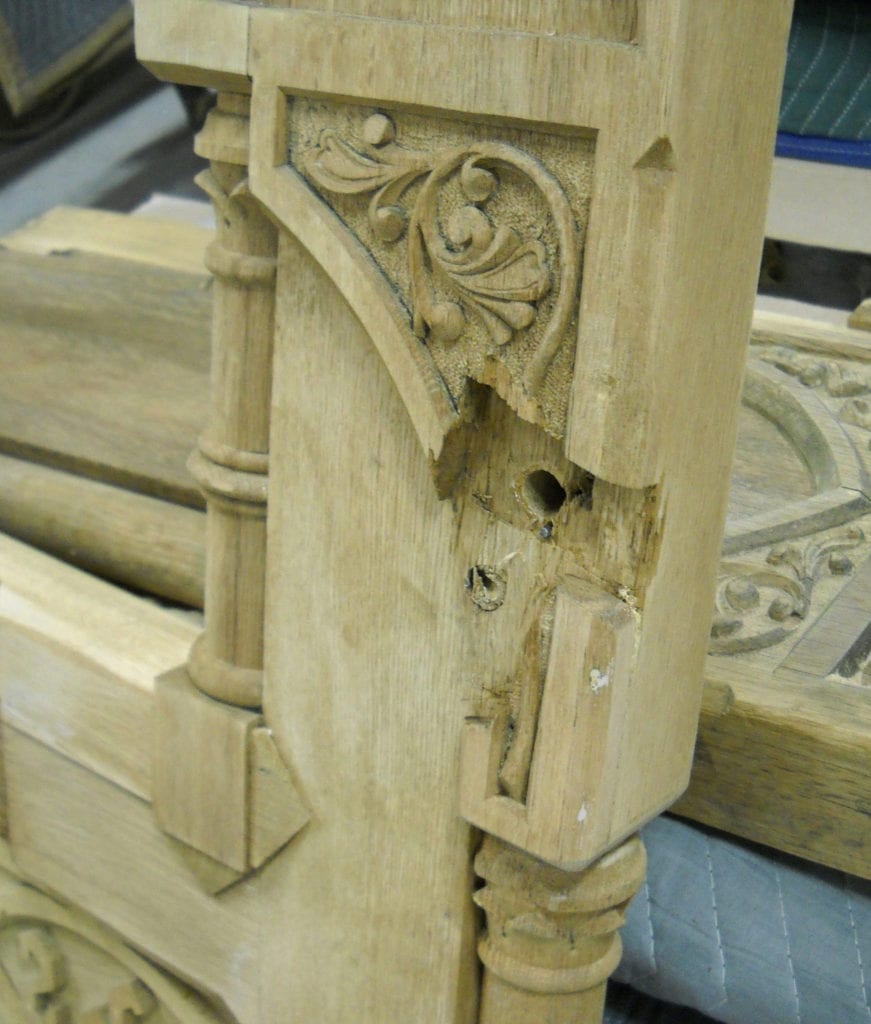 Third Presbyterian Church – Rochester, NY
This stunning stone structure has been part of the East Avenue Historic Districts in Rochester since 1894. The church, steeped in tradition, knew that replacing their woodwork in a recent renovation was out of the question. The particularly ornate end panels were removed from the deteriorating pew bodies, refurbished, and retrofitted with new curved backs and seats. To facilitate contemporary liturgy, existing built-in chancel pieces were modified to become freestanding, portable pieces. Historic details were captured in the new baptismal font, choir screen and new clergy seats, complementing the original furniture details.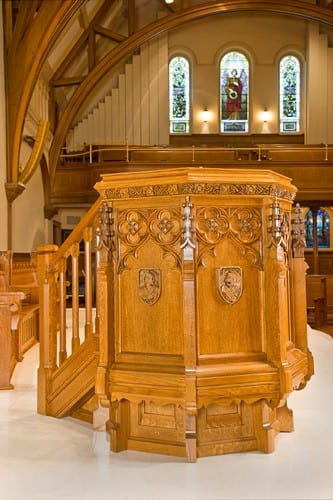 St. Paul the Apostle Catholic Church – Spartanburg, SC
St. Paul's had grown out of its 250 seat, 100 year old historic worship space years ago. A new church was built, after 20 years of planning, with the same historic flair. Reclaimed pew ends, from a 140 year old church, were repurposed adding new pew bodies and new life for generations to come.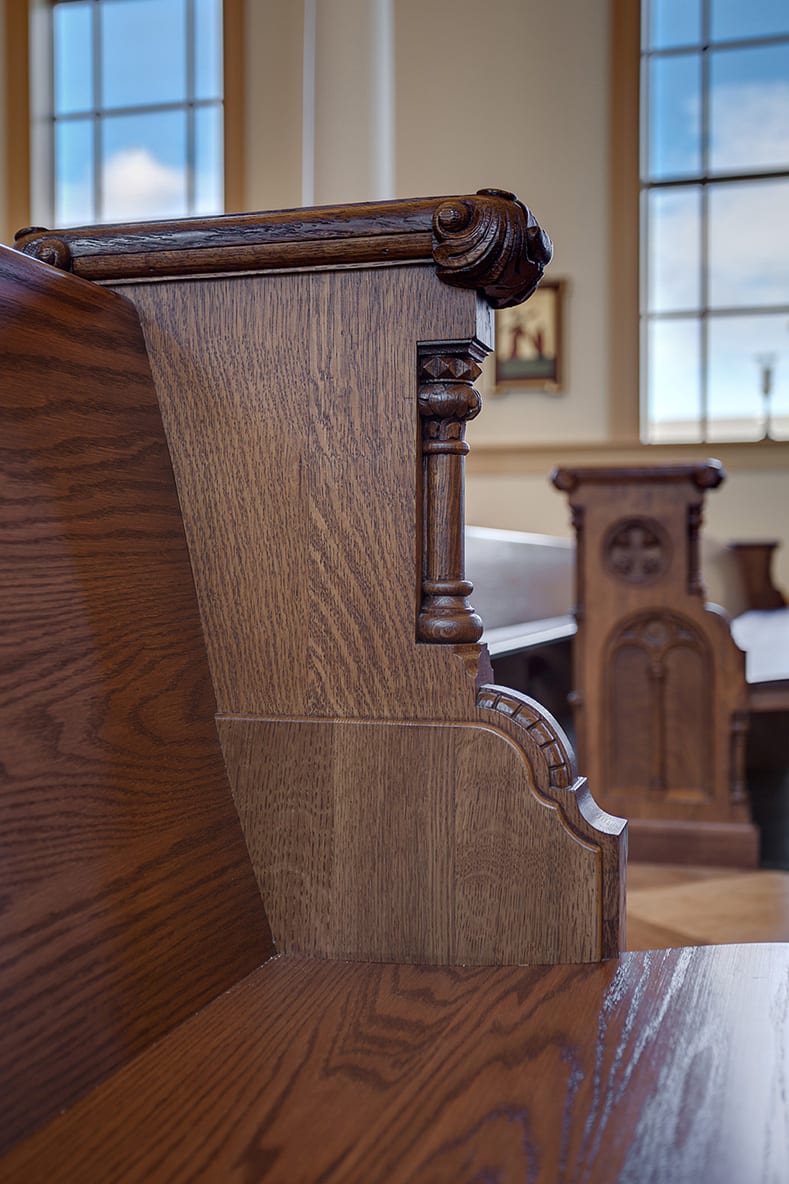 Trinity Church – Princeton, NJ
This historic Episcopal (Anglican) parish, well known for its vibrant choir program, effectively refurbished their French Gothic detailed choir stalls. Successful in duplicating intricately carved details for new choir stalls retrofitted to existing stalls and adding new choir pews and modesty screens with matching details provided the additional space needed to continue the more than 135 year old music tradition which transforms worship through the transcendent power of music.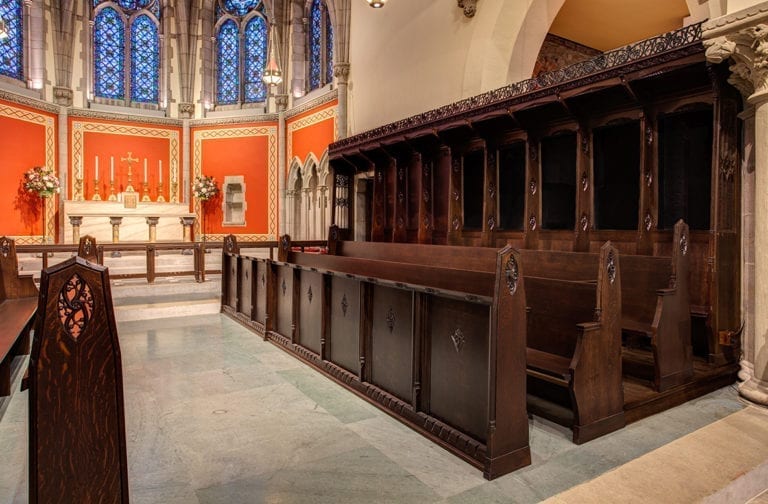 Get Started!
Ready to preserve the heritage of your sacred worship space?