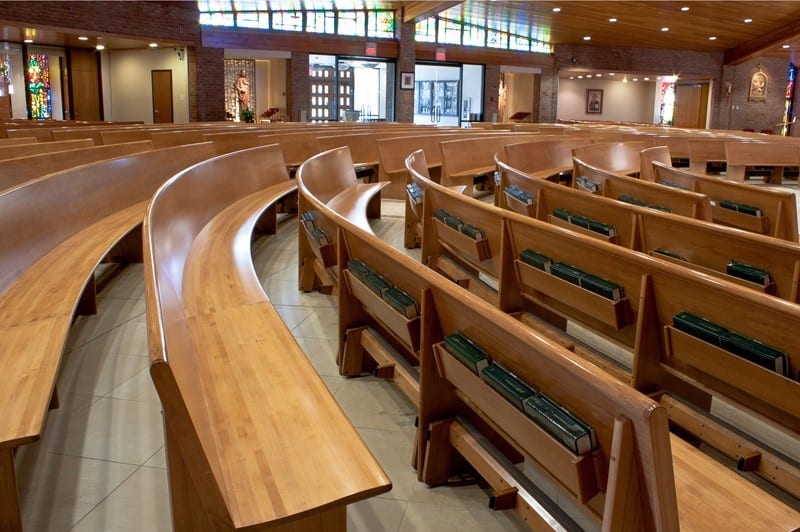 With over 100 years in the woodworking industry and over 70 years of experience in design and custom craftsmanship of worship furniture, there are few worship furniture and seating manufacturers in existence today that can match New Holland Church Furniture's capabilities.
Many of our customers—located in every U.S. state and throughout Canada, the Caribbean, and South America—tell us that they approached other vendors first but ultimately chose us because our service and craftsmanship are unbeatable.
We don't claim to be better than anyone else in our industry, of course. However, it is gratifying to know that congregations throughout the Western Hemisphere recognize our dedication to exceeding their expectations throughout every step of the worship furniture upgrade process—from initial design to final delivery and installation.
Today's post highlights a few of our biggest differentiators as a complete worship furniture resource. These are significant attributes that you won't find from other worship furniture manufacturers and project managers!
Our Expertise with Radius/Curved Pews
For many congregations, discovering the surprising ways in which our radius curved pews can transform their gathering spaces is a game-changer.
New Holland Church Furniture is the only manufacturer of true radius curved pews since 1962. That means that our skilled craftspeople are among the few experts in the United States today who understand how to create these sophisticated pew designs, which cannot be machine-built.
Check out what our friends at St. Helen's Catholic Church in Georgetown, Texas, have to say about why they were ecstatic to discover radius pews for their worship seating upgrade project.
Our Commitment to Old-World Craftsmanship
At New Holland, we utilize the latest computer-aided design (CAD) and building technologies available to help our customers maximize seating space and adhere to code requirements. But, our worship furniture construction process still relies heavily on traditional hand-craftsmanship, too.
We start with only the most premium natural hardwoods, plywood, and engineered wood core materials. Each component is hand-sanded and handcrafted with superior attention to detail before being carefully installed to our customers' precise specifications.
Want to learn more about our approach to manufacturing our worship furniture? Watch this video from the Manufacturing Marvels® series.
Our Ability to Restore and Retrofit Existing Furniture
When congregations are faced with the decision to relocate or significantly renovate their existing worship spaces, there can be some uncertainty surrounding what to do with historically important furniture pieces and architectural woodwork. The last thing we want these organizations to do is to regret abandoning seating and wood decorative elements that could have been preserved via creative reuse methods.
Here at New Holland Church Furniture, we utilize a variety of methods to restore and reuse many elements of your current worship space in new ways. These include converting built-in features into freestanding worship furniture, incorporating existing church pew ends onto new pew bodies, expertly repairing damaged historic furniture pieces, and so much more.
Our Consultative Approach From Project Start to Finish
In short, we're there for your congregation or organization every step of the way—listening, advising, and working hard to keep all stakeholders informed and invested in your furniture design and installation project.
If you haven't explored our customer testimonial videos, we invite you to do so now. So many of our valued project partners in sacred and secular organizations worldwide appreciate our ability to truly guide them through their worship furniture and seating upgrades.
Ready to Experience the New Holland Church Furniture Difference?
From your very first interaction with our dedicated team here at New Holland Church Furniture, you will experience our commitment to superior customer service. As we work together, you will quickly discover why our high-quality craftsmanship ensures you're getting the best furniture available today, built to last for generations to come.
If your congregation or civic organization has begun actively exploring replacement options for your wood furniture and seating in your gathering spaces, we invite you to connect with one of our helpful reps in your local area.