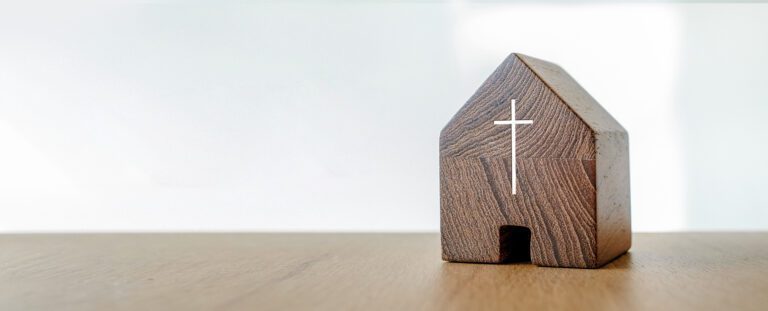 Bigger isn't always better. In a world where success is sometimes measured by how much money is in your bank account, how many followers you have on social media, or how many people you can fit into your vehicle, it can be hard to see something small as being of value. But small can sometimes be extraordinary when it comes to churches, synagogues, or other worship spaces.
Small worship spaces pose challenges, of course, like figuring out how to accommodate your congregation or which church pew furniture to select. However, there is an intimacy and a connection between congregants in small houses of worship that you just can't get with larger ones. As a worship leader or facilities manager in charge of seating, one of your priorities is to ensure that everyone can see the focal point, engage with one another, and worship their Creator.
New Holland Church Furniture can help. For over 70 years, we have helped thousands of churches and synagogues repurpose their space to expand seating needs, add stunning architectural details, and provide tips for maximizing the use of your space, no matter its size. Our friendly reps are available to help you choose the best seating for your space while embracing the building that you have. Get started by reading today's blog post and finding a rep in your area!
1. Choose Radius Curved Pews for Maximum Seating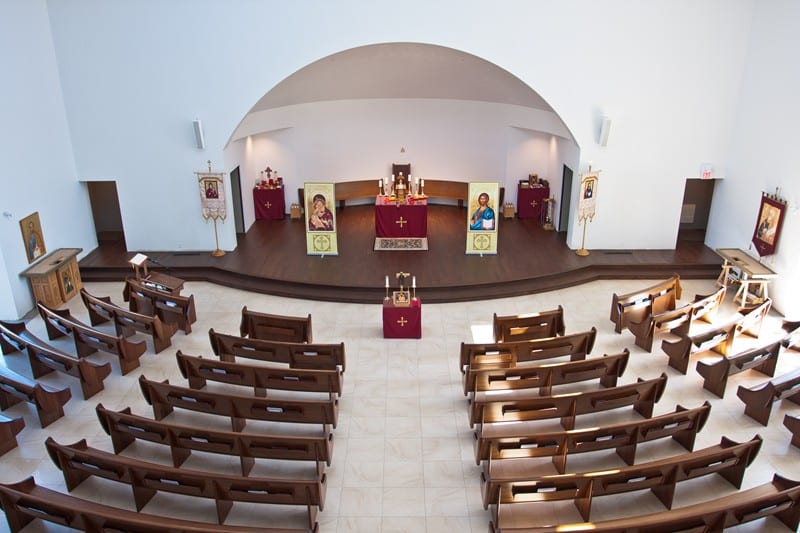 If your goal is to maximize the amount of seating available for your congregation, there is no better church pew furniture to choose from than radius curved pews. Not only do these create a more intimate environment for your church or synagogue, but they also provide great views of key focal points, no matter where you sit. This type of church seating design can accommodate more people than straight pews or chairs.
As the only manufacturer of radius curved pews since 1962 and with over 800 installations worldwide, New Holland Church Furniture can produce curved pew bodies up 22-feet long that complement any space. No machine can build the curves and variations needed for radius curved pews. It can only be handmade, and our experienced artisans have mastered this craft.
You can also choose from various options to completely customize your curved pews to your specifications. Choose from multiple wood species and whether to upholster or not. You can even choose customized end panels to add decorative elements to your worship space without taking up extra room.
2. Use Stackable Wood Chairs for Flexibility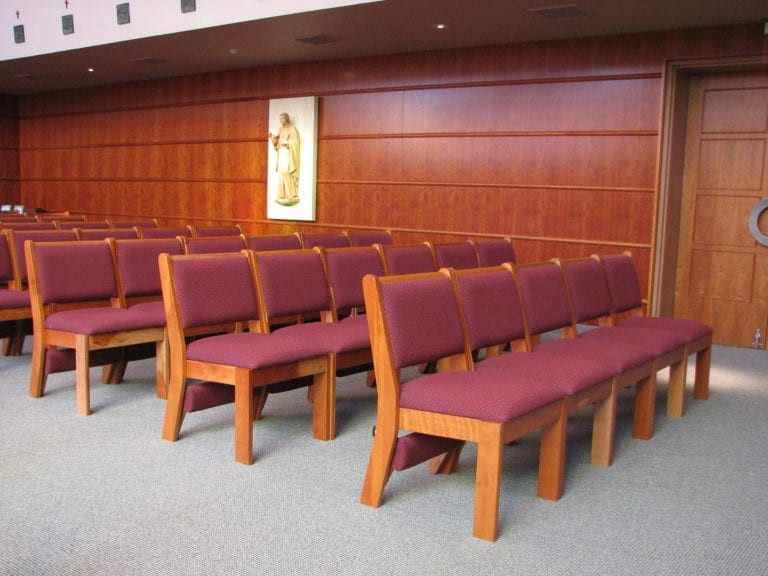 For some smaller synagogues or churches, stationary pews aren't ideal. Sometimes the sanctuary space needs the ability to transform into a multi-purpose room. For these situations, we recommend installing stackable wood chairs.
These high-quality church chairs provide excellent worship seating while giving facilities the flexibility it needs to transform space. Their portability means that you can stack them away in storage when you need large amounts of space available for other religious activities.
At New Holland Church Furniture, we produce stackable wooden chairs made from various options. You get to pick the wood species, upholstery options, whether we build them with or without arms, the length (available in single, double, or triple), and interlocking options.
For small worship areas, this type of synagogue or church seating may be ideal so that your worship space can adapt to other events than just Friday evening or Sunday morning service.
3. Get Professional Design Assistance
Getting professional design assistance is crucial when reconfiguring your worship space, especially in a small area. You need to ensure that your seating configuration meets applicable International Building Code (IBC) and Americans with Disabilities Act (ADA) guidelines. Ensure the space is functional, aesthetic, and can meet your current and future worship needs.
That's why working with the design team at New Holland Church Furniture is so valuable. We can analyze your current seating situation and recommend how to maximize your seating capacity. We'll even provide comparisons for you to evaluate, like which church pew furniture will hold the most people versus cost. So, when you can't decide between radius-curved pews or stackable wood chairs, our team can help provide the information you need to make an informed decision.
4. Rearrange Existing Furniture
Another way to maximize the use of your small worship space is to rearrange your existing church pew furniture. In a previous blog post, we analyzed what type of pews and chairs your house of worship needs, along with seating arrangements. If brand new church furniture isn't in the budget for you, then rearranging your existing furniture into straight rows, angled rows, fan rows, or a complete circle may provide the additional space you need to allow more congregants to worship.
It also allows for rooms to be multi-purpose. For example, you could hold small group meetings during the week if you rearrange furniture to be more intimate. Or, if your church doubles as a co-op home learning center or daycare during the week, moving stackable church chairs out of the way gives you the space you need for learning and play. Your sanctuary could double as a fellowship hall if you bring out tables from storage.
5. Keep Congregation Informed About Changes
As you make adjustments to maximize your small worship space, it's essential to keep your congregation abreast of any changes. People are naturally reluctant to change, especially when it comes to matters concerning a very dear aspect of their life—faith. So, when needing to change your church pew furniture or rearrange existing furniture, always explain why it needs changing and what benefits you hope it will bring.
You could even involve the congregation by letting them vote on designs, upholstery selection, or types of pews and chairs. This way, your worshippers feel involved and like they have a say in the changes.
6. Consider Other Elements of Worship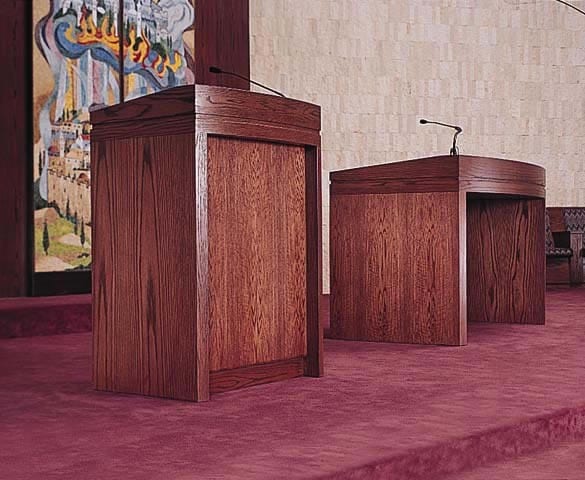 A church or synagogue is more than just seating arrangements. Think about how you want to incorporate other elements of worship. For example, if your ministry focuses on the Eucharist—or the Last Supper—perhaps a communion table will need to be added to your space, but you forgo a traditional baptismal font.
If you're a sermon-based house of worship, purchasing a lectern or pulpit of the highest quality might be wise, but leave out oversized clergy chairs. Perhaps your synagogue wants beautiful bimah furniture to read the Torah, but you minimize the size to adjust for space restrictions.
Just because you have a small space doesn't mean that the most critical aspects of your ministry can't be considered and added to enhance the worship experience.
7. Embrace the Intimacy
Lastly, our final tip for making the most of a small worship space is embracing intimacy. Bigger isn't always better, and smaller worship spaces and congregations allow for the opportunity for your worshippers to be more tight-knit. When one has a baby, the whole church or synagogue can rejoice. If someone loses a parent, all your attendees can gather around for support.
Remember that God has a purpose for all houses of worship, and that size doesn't matter if your congregation can gather safely on the best church pew furniture, revere their Creator, and fellowship with one another.
Need More Help with Church Pew Furniture for Small Spaces?
At New Holland Church Furniture, we are dedicated to helping churches and synagogues of all sizes maximize their seating capabilities and produce beautiful, hand-crafted church pew furniture. If your house of worship is ready to take the next step in adding the essential elements of worship that not only look stunning but serve a functional purpose, get in touch with one of our reps today!