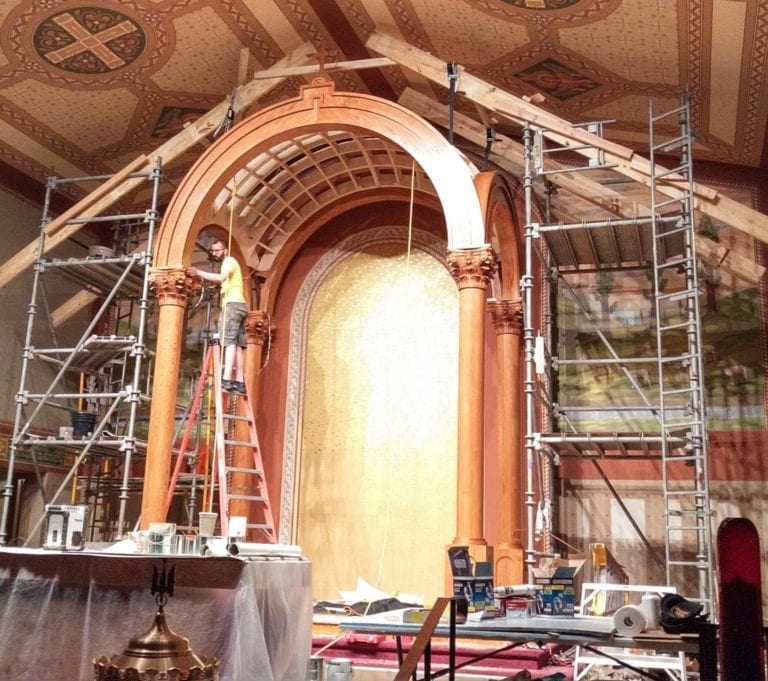 At New Holland Church Furniture, we've been manufacturing top-quality worship furniture and congregational seating for over 70 years. In that time, we've gained the knowledge and expertise to provide distinctive workmanship you just won't find with other manufacturers.
We set the industry standard in congregational seating and church furniture manufacturing and continue that commitment to quality throughout the installation process. To date, we've completed church pew installation of over 700 radius curved church pew installations alone, as well as installations of straight church pews and combination seating in many synagogues throughout the United States, Canada, Bermuda, the Caribbean, and South America.
Our church pew installation team and combination seating installers utilize a time-tested installation process to ensure your church furniture, congregational seating, and architectural woodwork is installed with the same precision our team used to create it.
---
Our Installation Process
Pews and combination seating are typically shipped and delivered unassembled to your church or synagogue; however, curved pews are preassembled at our shop.
Individual parts are unloaded, carefully staged, and prepared for installation.
Supports are securely fastened to the seats and backs.
The solid wood pew ends, which are pre-routed for a secure fit, are screwed to the backs and to the seats.
Book racks, moldings, and other accessories are then added, and the assembled pew is placed in position.
Tongue and grooved cap rails are fitted to each pew and glued along the entire length, while the applied under cap rail molding adds a touch of quality to each pew.
After the final pew layout has carefully been determined, the pews are now ready to be permanently secured to the floor.
The supports are scribed for a perfect fit. Fastening locations are marked on the floor, while the pews are set in place and anchored to the floor.
The completed installation is where your dream becomes a reality, providing you with church furniture that you'll be proud to use for generations to come.