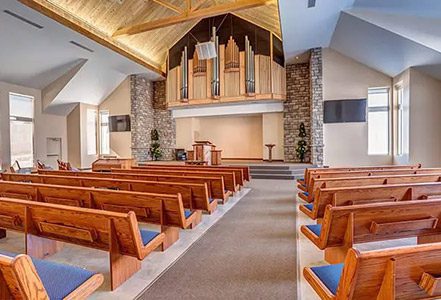 Picture yourself sliding into a pew that feels like a welcoming embrace. Envision the rich wood beneath your fingers, which is lovingly stained, to bring out the natural beauty of the wood. This experience is what it's like sitting in our radius or straight church pews.
At New Holland Church Furniture, we specialize in creating customizable wooden and upholstered church pews that are as beautiful as they are comfortable. Our expert craftsmen use a variety of wood stains and upholstery options to create stunning pieces that enhance your worship space. Stain-resistant and designed with durability in mind, our pews are built to last, providing your congregation with years of comfort.
Whether you're looking to replace aging church or synagogue furniture, considering pew reupholstery, or building a new worship space from scratch, you'll find unparalleled artistry and expertise here at New Holland Church Furniture.
Don't let worn-out seating distract you from your worship experience any longer. Reach out today to find a representative who truly understands pew design and manufacturing. Let us help you create a worship space that invites reflection, fosters community, and enhances your worship services. With New Holland Church Furniture, you can feel at home in your house of worship.
Step 1: Choose Your Pew End Design
The first step in customizing your worship seating is choosing the right pew end design. We offer a range of pew ends at New Holland Church Furniture, or let us work with you to create a custom design to fit your worship space. Each end isthoughtfully designed to add elegance and character to your church or synagogue. Whether you prefer the timeless appeal of traditional designs or the sleek lines of modern styles, our selection offers something for every aesthetic. Remember, the pew end is more than just a structural element. It expresses your congregation's unique identity. Browse our styles below!
Step 2: Choose Your Pew Body Shape
Once you've selected your pew ends, it's time to consider the pew body style of your new wood church pews or synagogue seating. Pew bodies are available in solid or laminated wood, upholstered, or a combination of wood and upholstered. Our craftsmen are skilled in creating both straight and curved pews, allowing you to optimize your worship space for comfort and functionality. Do you envision classic, straight pews lining your aisles or the inclusive, communal feel of curved pews enhancing your services? The choice is yours.
Step 3: Choose Your Pew Back Style
Once you select your pew end and body styles, you can choose which back style you want for your wood church pews. We have four different back styles from which to choose, including ones with a full back made of laminated or solid wood. We offer open pew backs for a balance of classic and contemporary design. Finally, for the ultimate in comfort, choose our upholstered pew backs. All upholstered pews are available in a laminated wood back or an upholstered wood back. This versatility ensures that you can find the perfect pew backs that complement your space and provide comfort and support for your congregation.
Need Help with Your Pew Selections?
If you're feeling overwhelmed by the wealth of options, don't worry. Our New Holland Church Furniture team is here to guide you through the process. With over 70 years of experience in church and synagogue furniture, we understand the importance of making the right choices for your congregation. We can help you assess your space, discuss your needs, and choose the perfect blend of style, material, and finishes. Find a rep today to get started!
What Comes Next?
After you decide on the pew end design and body style, we move on to the finishing touches. You can choose accessories like bookrack style, modesty screens, and kneelers. In addition, you can choose the specifics of your wood species, the color of your wood stains, and whether to opt for upholstered church pews or the simple elegance of solid wood. Our upholstery options include a range of durable, stain-resistant fabrics that add comfort and style to your seating. If you're considering reupholstering existing pews, we're here to help with that too. Then, our team of experts will come to your space to install your new wooden or upholstered church pews. It's that easy!
Elevate Your Worship Space with New Wooden or Upholstered Church Pews!
Whether you're constructing a new worship space or renovating an existing one, your decisions today will impact your congregation for years to come. That's why choosing church furniture that aligns with your vision, meets your congregants' needs, and withstands the test of time is crucial.
Our team of experts is here to guide you through every step of the process, from selecting the perfect pew end design and body style to choosing the right stain and upholstery for your pews. With over 70 years of experience in pew design and manufacturing, we have the knowledge and expertise to help you create a worship space that truly reflects your congregation's spirit.
Don't let uncomfortable seating be a distraction any longer. Reach out to a New Holland Church Furniture representative today and let us help you elevate your worship experience with our beautifully crafted, wooden or upholstered church pews. Together, we can create a worship space that is as welcoming as it is beautiful.