A few years ago, The New York Times published a feature in its Religion Journal that shared the new church building story of our customer, St. Martin's Episcopal Church in Houston, Texas. St. Martin's made headlines when the congregation—one of the largest Episcopal churches in the USA—purposefully designed their new home utilizing traditional church architecture principles.
This design choice was not exactly in fashion at the time but has since spearheaded a movement in America and beyond to design new religious structures in centuries-old traditional architectural styles.
Today's post highlights some of the features that define traditional church architecture—or, more broadly, traditional religious architecture—and why people tend to respond to it positively. (Note: The St. Martin's Episcopal project was a massive success for that congregation.) We'll also take a closer look at three different congregations that we've worked with—including St. Martin's—who embraced traditional architecture in brand new buildings here in the 21st century.
Features of Traditional Church Architecture
Here at New Holland Church Furniture, we design worship seating, architectural woodwork, and more for a variety of religious traditions, including Catholic and Liturgical, Protestant, and Jewish congregations. Each individual tradition grew throughout history with different needs from their physical meeting structures and worship spaces. As a result, each tradition has particular architectural styles associated with it.
For instance, traditional Jewish synagogue architecture does not technically have restrictions on form or style. You can find Gothic synagogues, oriental-style synagogues, and many more designs around the world.
Traditional church architecture, however, tends to have a lot of Gothic-style references. This is because Gothic architecture's purpose—from the time it was first established as a style in 12th-century France—has always been to reference God through a variety of physical forms.
These forms include things like:
Sanctuary layouts featuring a "cruciform plan" that creates a cross shape.
Architectural features like domes, tall stained glass windows, and graceful columns.
Straight pew seating that faces a stage-like focal point—like a pulpit/ambo, altar, etc.—at the front of the sanctuary space from which worship leaders address the congregation.
As quoted in that New York Times article we linked above, the former rector of St. Martin's said, "if modern architecture is meant to be nonreferential, Gothic architecture's whole purpose is to reference God." This quote perfectly explains why traditional church architecture has many Gothic-style elements. It also explains why worshippers appreciate this architectural style and feel drawn to churches that are now embracing it again.
3 Congregations That Have Embraced Traditional Religious Architecture
There are many examples of new "traditional" churches being built today, and we have had the privilege of working with several prominent congregations who have designed and constructed these buildings. Here are three memorable projects that New Holland Church Furniture took part in.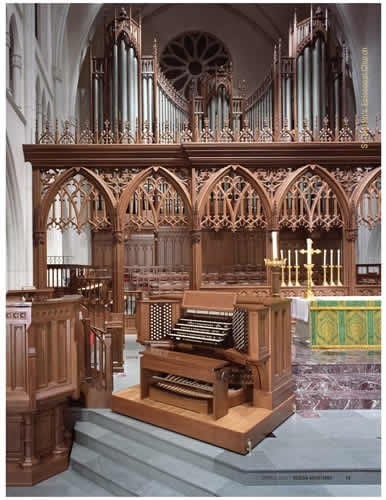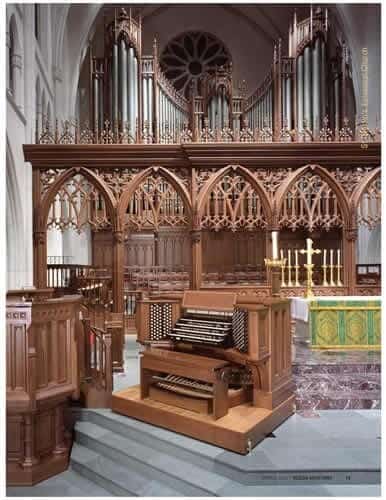 St. Martin's Episcopal Church – Houston, Texas
Instead of simply enlarging the boxy 1950s-style home they had outgrown, St. Martin's chose to model their design for a new church after Gothic-style European cathedrals from the 1200s. And, while this choice may not seem revolutionary, it actually was at the time.
A return to classical/traditional religious architecture designs represented a break from the modernist trend that had ruled in America since at least the end of WWII. Making the design decision that St. Martin's went with represented a risk. However, their community had about 6,600 members attempting to worship in a space designed for 675 people! Something had to be done. In the end, their decision helped grow the congregation by thousands more in the years after they moved into their new home.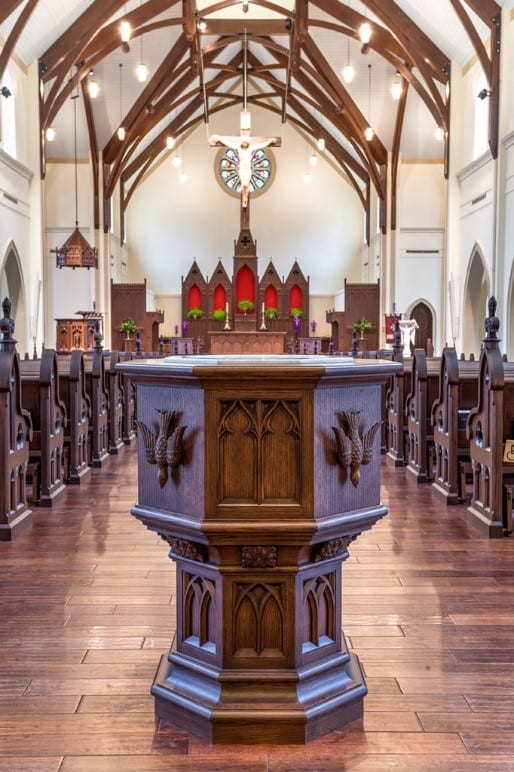 St. Peter's Anglican Church –Tallahassee, Florida
Finished in 2014, St. Peter's constructed a 36,000 square-foot cathedral that would not be out of place in the English countryside of the 1200s. It features a 100-foot bell tower, among other impressive elements of traditional church architecture.
New Holland Church Furniture designed, crafted, and installed many Gothic furniture pieces and architectural woodwork to complete the congregation's new home, including reredos, altar and high altar, tables, pulpit and tester, clergy chairs, pews, and much more.
St. Paul the Apostle Catholic Church –Spartanburg, SC
A growing congregation that also embraced the spirit of creative reuse, St. Paul the Apostle Catholic Church built a new 12,000 square-foot parish church building that was dedicated in 2013.
Many classical design elements common in Gothic architecture are present in the new church building, including strong columns and arches. Reclaimed pew ends—about 140 years old—were added to new pew bodies to imbue a sense of history and tradition in the brand new building. After all, the congregation itself dates to the late 19th century and carries on a Catholic tradition in South Carolina that began in the 1780s.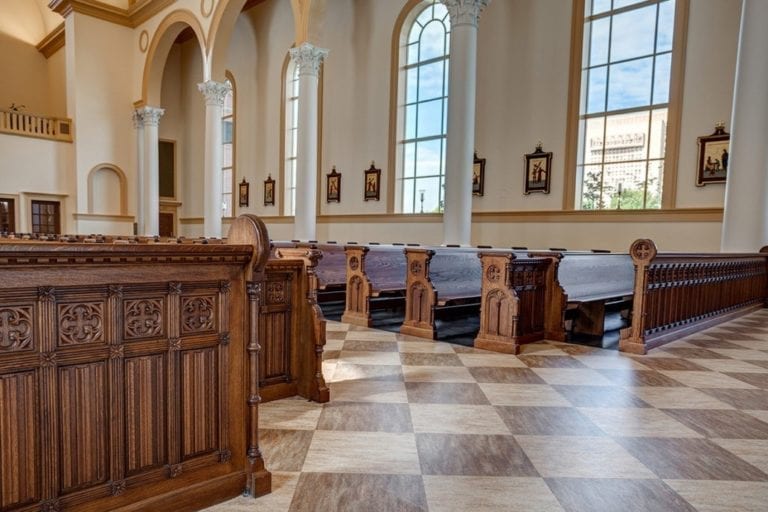 Planning to Build a New Building with Traditional Church Architecture?
Here at New Holland Church Furniture, we are uniquely capable of designing worship furniture to fit any architectural style for religious and civic buildings. Whether you favor a traditional, modernist, or contemporary mixture of old and new, we have the expertise to help.
Explore our Uniquely Custom Lookbook to learn more about how "custom is our normal" and old-world craftsmanship, design expertise, and so much more inform everything we do. Or, if you're ready to get to work today, contact us here at New Holland Church Furniture to begin your project.