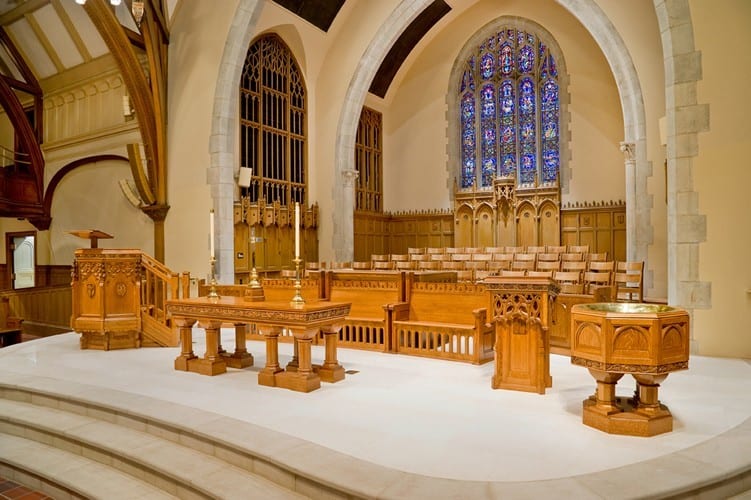 Has your church, temple, or other religious organization been working to address congregational growing pains by either building a new worship space or renovating an existing sanctuary or other gathering areas? If so, you deeply understand all of the nuanced decision points that go into this often emotionally-charged process—including what to do about your historically significant worship furniture.
Did you know that you don't have to abandon even built-in worship furniture from your current space when you make a move or complete an extensive remodeling project? From repurposed church pews and seating to restored wooden decorative elements, New Holland Church Furniture is here to help you incorporate the most important elements of your old worship space into your new or renovated congregational home through creative reuse methods.
These are just a few of the ways you can carry your congregation's beloved worship seating, architectural woodwork, and more as you grow into a new or significantly updated site.
Convert Built-In Elements Into Freestanding Worship Furniture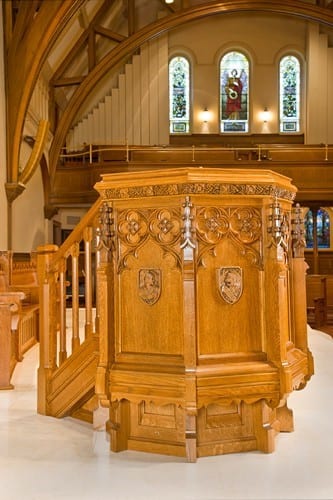 Many people who are not yet familiar with worship furniture restoration do not realize that built-in pieces can be modified into freestanding ones by the right craftspeople.
Our work for Third Presbyterian Church in Rochester, NY, showcases how previously non-portable furniture pieces—like their beautifully ornate pulpit—can be reimagined as movable features to accommodate more contemporary liturgy.
Incorporate Existing Church Pew Ends Onto New Pew Bodies
A worship seating creative reuse idea that many congregations embrace is incorporating their often-ornately carved pew ends with new pew bodies to create a perfect marriage of historic and new. This process allows you to replace deteriorating and uncomfortable old pew benches with new high-quality seating while keeping the traditional decorative elements that so many in your congregation know and love.
Additionally, you can often times claim better seating efficiency in your worship space when you allow us to turn your straight pews into our unique radius curved pews! Repurposed church pews create a unique opportunity to preserve historic pieces from your congregation's worship space.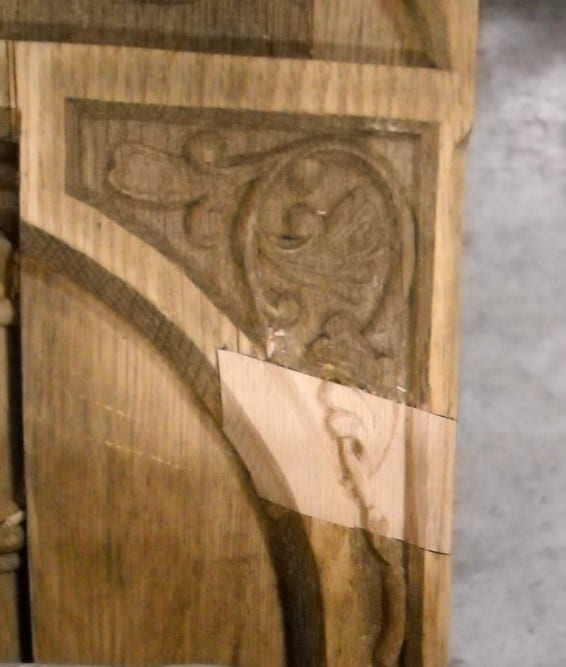 Refurbish and Repair Damaged Historic Furniture Pieces
While challenging, talented woodworkers like those we employ here at New Holland Church Furniture can repair and restore furniture pieces that have sustained breakage and other damage through the years.
Our work for Basilica of Our Lady Immaculate in Guelph, Ontario, Canada, shows how we put our skills to work in renewing the basilica's late 19th-century end panels and pew ends. Some pieces required significant repair, which involved carving partial designs to fit into the older panels like puzzle pieces!
Create New Pieces to Match Older Worship Furniture
If you're moving into a totally new building, it's possible that your congregation does not want to be burdened with moving every single piece of furniture from your previous worship spaces.
In situations like this, you might choose to bring just one or two main pieces with you. For instance, you might repurpose only your pulpit or clergy chairs, perhaps a baptismal font that has been used for generations, or Bimah furniture that has particularly significant associations with your synagogue's traditions.
Of course, if you simply bring one or two furniture pieces with you, you'll need to ensure that they match or appropriately coordinate with the new pieces you choose for your worship space. Designing new furniture that perfectly complements your existing foundational pieces is one of our special skills here at New Holland Church Furniture.
Take another look at the work we did for our friends Third Presbyterian Church to get a sense of our unique capabilities—would you believe that the baptismal font, choir screen, and clergy seats were newly built? While this particular congregation renovated their space instead of moving, they chose to include several new furniture pieces into their chancel set, which needed to seamlessly blend with the existing furniture.
Worship Furniture Creative Reuse and So Much More for Your Congregation
New Holland Church Furniture has been crafting furniture and supporting both sacred and secular organizations in upgrading and lovingly refurbishing their gathering spaces for 100 years. Let our talented artisans help you create and maintain inspiring worship environments and well-appointed, comfortable meeting venues.
Contact us now to learn more about our unique service offerings, or find a rep in your area throughout North and South America to discuss your project plans and goals.