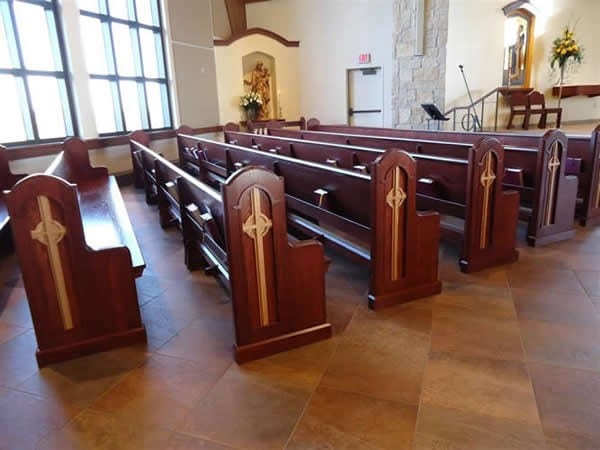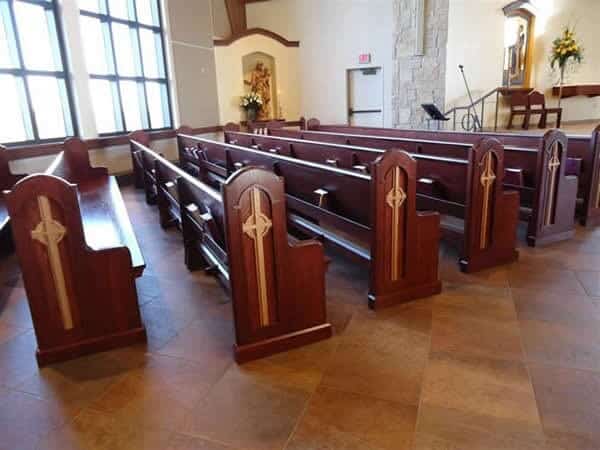 Are you tired of outdated and uncomfortable pews in your synagogue or church? What if you could have a sanctuary with perfectly sized pews strategically placed to maximize seating capacity and create an intimate atmosphere? Look no further! At New Holland Church Furniture, we understand the importance of creating a welcoming and inclusive worship space. That's why we offer a wide range of modern church pews and synagogue seating solutions designed to enhance the worship experience for all individuals.
Say goodbye to cramped pews with a narrow center aisle and hello to our stunning wood radius curved and straight pews, chairs, and combination seating. Our team of expert designers has extensive experience in creating custom pew dimensions that cater to your congregation's unique needs. We know that having the right number of seats, properly spaced to allow easy access, is crucial for a comfortable and inclusive worship environment.
Don't let outdated synagogue and church pew dimensions hinder your worship experience any longer. Take the first step towards transforming your chapel or worship space today. Contact our knowledgeable representatives, who can guide you through the design process and help you choose the perfect seating solution for your congregation. Find a rep today and start creating the worship space your community deserves.
Pew Specifications
When selecting the perfect church pews or synagogue seating for your congregation, a clear understanding of the technical specifications is essential. We offer a comprehensive range of customizable options at New Holland Church Furniture Whether you need chapel seating or seating for your larger worship space, our pews and combination seating are customizable to meet your needs!
Our pew technical drawings provide detailed information about the dimensions, seating capacity, and layout of the pews. You can easily visualize how the pews will fit into your worship space, ensuring optimal utilization and comfort for your congregation. Just click on the images below to see the drawings in greater detail.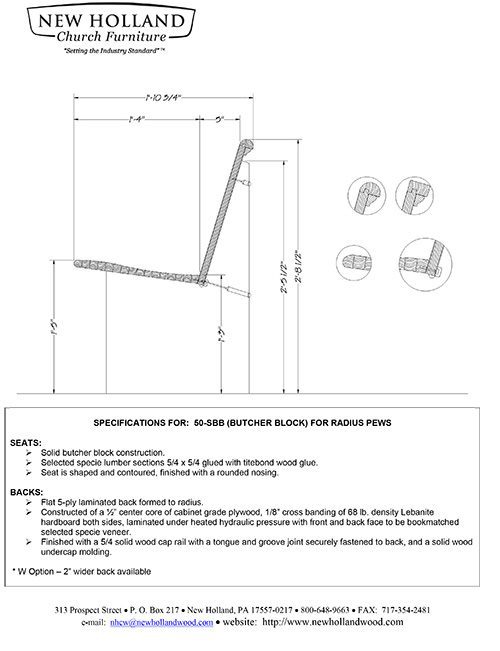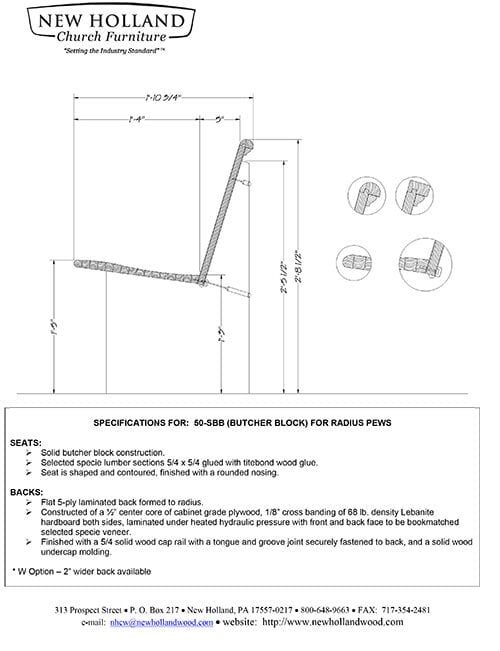 Having Trouble Picturing These Church Pew Dimensions?
If you're having trouble envisioning how the synagogue and church pew dimensions will look in your sanctuary, don't worry. Our team of experienced designers can assist you in creating 3D renderings or virtual mock-ups of the proposed layout. This technology allows you to visualize the final result before making any commitments. Contact your local rep today to find out more!
Benefits of Custom Church Pews
We understand that every worship space is unique, and that's why we offer custom church pews. Whether you need pews that align with the current architectural style of your building or ones that reflect your values and traditions, we can bring your vision to life. Choosing custom church pews from New Holland Church Furniture comes with these benefits and much more!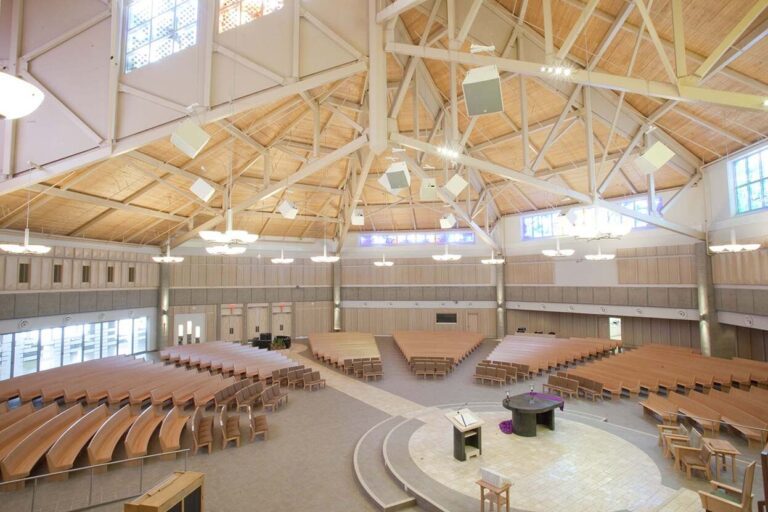 Align with Current Architectural Style
Our custom pews are designed to seamlessly blend with the existing architectural style of your synagogue or church. Whether you have a traditional or contemporary space, we can create pews that complement and enhance its aesthetic appeal. Plus, you're in control of the pew design, upholstery, and so much more.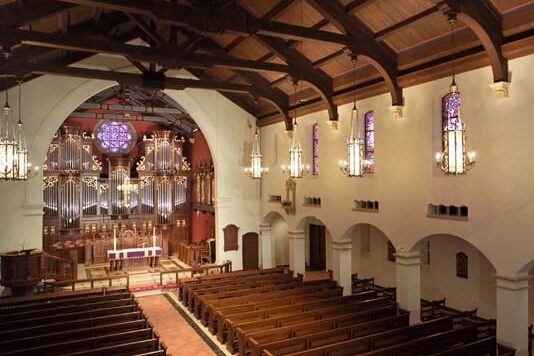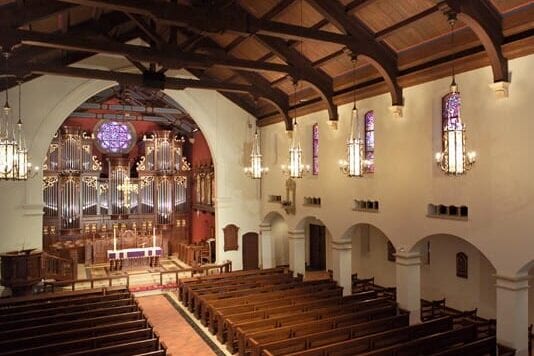 Accommodate Space Requirements
Each worship space has its own unique layout and seating capacity needs. With our custom church pews, you can maximize the seating capacity while ensuring comfortable spacing between each pew. We consider factors such as aisle width, wheelchair accessibility, and overall flow to create a harmonious environment.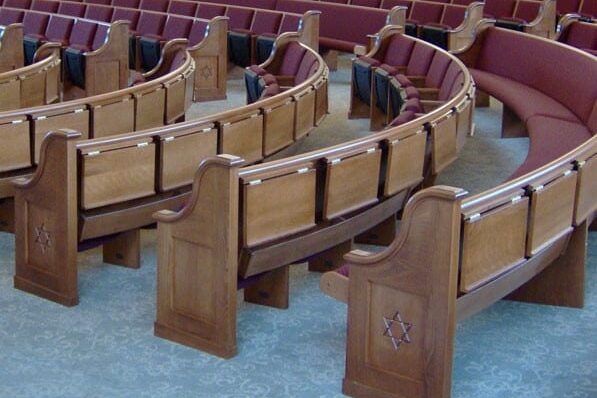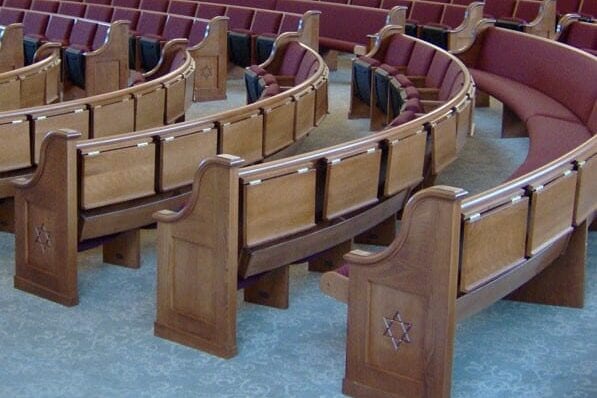 Reflect Your Values and Traditions
Your place of worship should reflect your values and traditions. Our custom church pews allow you to incorporate design elements that showcase your religious beliefs and create a meaningful atmosphere for worship. We can bring your vision to life, from intricate carvings to personalized engravings.
Why Choose New Holland Church Furniture?
At New Holland Church Furniture, we pride ourselves on our expertise and dedication to providing exceptional church furniture. Here's why you should choose us:
Experience: With over 70 years of experience in the industry, we have the knowledge and expertise to deliver high-quality church pews that meet your exact requirements.
Customization: We understand that every congregation is unique. That's why we offer fully customizable church pews, allowing you to create a space that reflects your values and traditions.
Quality Craftsmanship: Our church pews are meticulously crafted using the finest materials, ensuring durability, comfort, and timeless beauty.
Exceptional Service: Our team of experts is committed to providing excellent customer service. From design consultation to installation, we will guide you through the entire process, making it seamless and stress-free.
Don't settle for generic church pews that don't meet your congregation's needs. Choose New Holland Church Furniture and let us create a worship space that reflects your values, accommodates your space requirements, and enhances the overall worship experience. Need inspiration? Check out our past projects!
Start the Pew Design Process Today!
You have found the perfect solution to your congregation's struggle with inadequate synagogue and church pew dimensions. At New Holland Church Furniture, we understand the importance of creating a worship space that is comfortable and reflects your community's unique needs and traditions.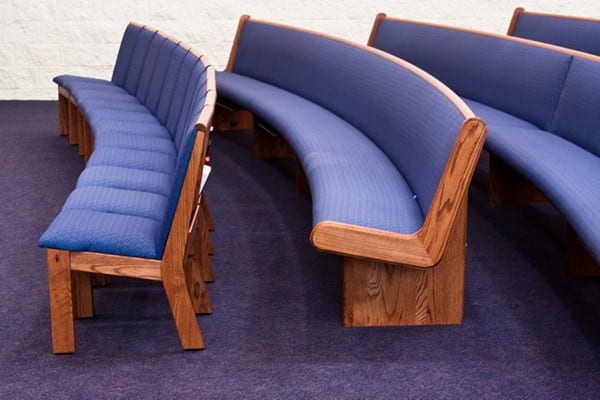 By visiting this page, you can now access the technical drawings that provide a detailed understanding of our custom seating solutions. These drawings showcase the meticulous craftsmanship and attention to detail that sets New Holland Church Furniture apart from the rest. Now, you can visualize how our pews will beautifully enhance your worship space and create an atmosphere of reverence and unity.
But it doesn't stop there. Choosing New Holland Church Furniture means embracing a myriad of benefits for your congregation. Our pews are meticulously designed to ensure ample legroom, promoting comfort and eliminating distractions during services. With our expertise in optimizing church pew dimensions, we guarantee that every member of your congregation will have a comfortable and inclusive place to worship.
Now, it's time to take the next step. Contact your local New Holland Church Furniture representative today to start the pew design process for your church or synagogue. They will guide you through every step, from selecting the perfect wood finish to customizing the pew dimensions to fit your space and needs.
Don't miss out on the opportunity to transform your worship experience. Choose New Holland Church Furniture and let us help you create a sacred space that truly reflects the essence of your faith and community. Contact your local representative now and embark on this exciting journey of designing the perfect pews for your congregation.