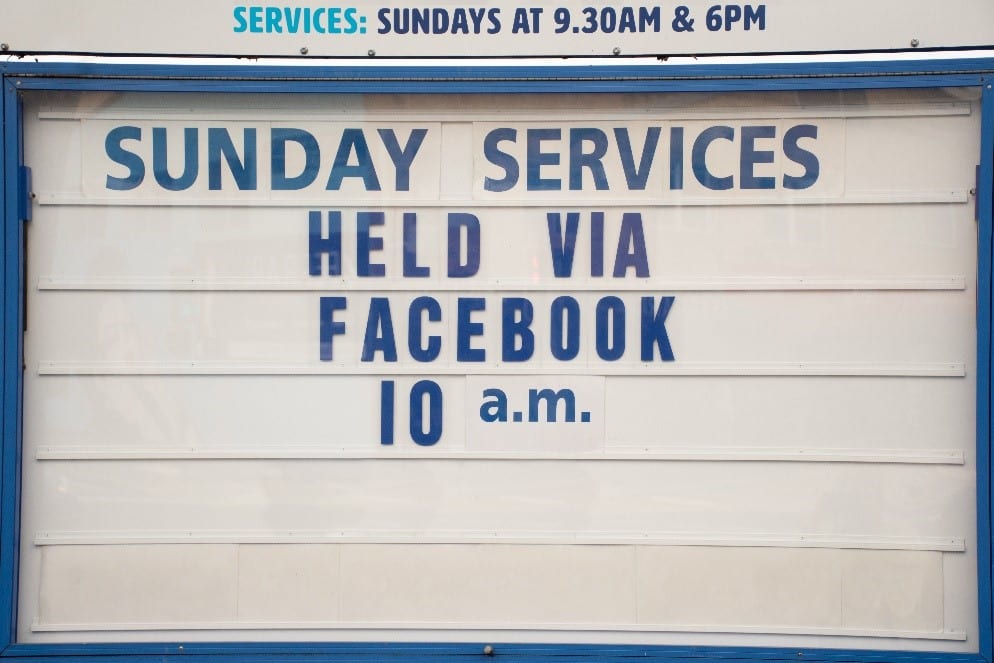 As social distancing continues this spring (and possibly through summer 2020), your congregational leaders may have already established some great ways to keep everyone in your community engaged remotely. However, many of us probably believed we would be back worshipping together by mid-April and are now looking for new ways to keep our congregations engaged with their religious practice, and with each other.
Here at New Holland Church Furniture, we strive to be so much more than just the nation's leading manufacturer of radius curved pews and custom other worship furniture. Our goal is to be a source of inspiration and support for the congregations we partner with—to truly help your organization minister to your community by elevating the worship experience.
Of course, elevating the worship experience has been somewhat put on hold due to our current global pandemic, and so we wanted to share some ways you might more broadly reshape your worship experience instead. Read on for more, and don't hesitate to reach out to us on Facebook or through our other communication channels to let us know what's been working for your congregation!
1. Live Stream Services
It's true that technologically savvy congregations are set up for video recording every service that takes place in their worship spaces and either simulcasting it online or on television or posting it on the web for community members to access later. These organizations have probably continued to broadcast services, just without a live audience or the usual full complement of musicians and worship leaders.
However, for smaller congregations, using this time of social distancing to begin broadcasting or recording services could bring the level of connectedness you're missing. Even if it's just a single pastor, priest, rabbi, or other worship leader speaking from his/her living room, there are plenty of options for streaming services. Luckily, live streaming is easier than ever before. All you need is a cell phone camera and the capability to share that video on Facebook, YouTube, or on the organization's website, and you're good to go.
This video from the Episcopal Diocese of San Diego is a great intro to live streaming religious services.
If video recording seems like a bridge too far, you may also consider audio recording certain leaders giving readings, lectures, or sermons. Or you may ask your musicians to submit recordings of hymns or worship music. Note that your musicians may be an untapped source of excellent knowledge about audio—and even video—recording techniques.
2. Connect in New Ways on Social Media
It's true that your organization probably has a Facebook page that you use to share information and connect with your congregants. But do you know about Facebook Groups?
This Facebook resource offers a newer way for your congregation to connect directly in a private discussion forum that your team members moderate. (Or, you can allow volunteers from your community to moderate.) Check out this information from social media resource Post Planner about how to get started with Facebook Groups.
3. Hold a Drive-In Service
Facts & Trends (from Christian organization Lifeway) recently published an article on creative ways to hold church during COVID-19 quarantine in which they highlighted a church in Washington state providing drive-thru communion services. Talk about getting creative!
If your congregational leaders are comfortable with this type of event—and your church or synagogue has a large parking lot—you may consider inviting your congregation to join you in worship from their vehicles. Weather is improving, and your worshippers might enjoy rolling down their windows to hear a message and some music outdoors. Note that amplification can be an issue if your event draws too many participants, so you may need to get even more creative!
4. Email or Post Daily Inspiration
For organizations that don't have many tech resources, emailing out daily devotionals or other worship materials is something your staff members can do from home while social distancing. If your organization is on social media, this is another avenue to distribute updates, inspiration, and instruction to your congregation.
5. Host Book Clubs or Discussion Groups on Zoom
Have you tried Zoom—or other group video chat apps like Facebook Messenger or Skype—yet? Once primarily a business teleconferencing tool, Zoom's popularity has exploded during the coronavirus lockdowns, and many people have been using it to chat with friends and family.
Your religious organization can harness Zoom's power to connect people over the miles, too. Try hosting discussion groups or online book studies through the app. Or, see if Zoom might offer a great way to hold virtual services! Zoom has lots of video tutorials available to show you how to get up and running with video chatting quickly and easily.
How is Your Worship Space Enduring Social Distancing?
As the COVID-19 situation continues to disrupt normal life, we realize that your congregation is facing never-before-experienced challenges in keeping everyone connected. At the same time, your building may be sitting empty, waiting for the day that religious life can return to some semblance of normal.
While everyone is away, take the time to clean, disinfect, and inspect your wood worship furniture to determine whether any work should be done to improve it.
New Holland Church Furniture can help you welcome back your congregation to future plans of elevating your worship space. Contact us now to learn more.