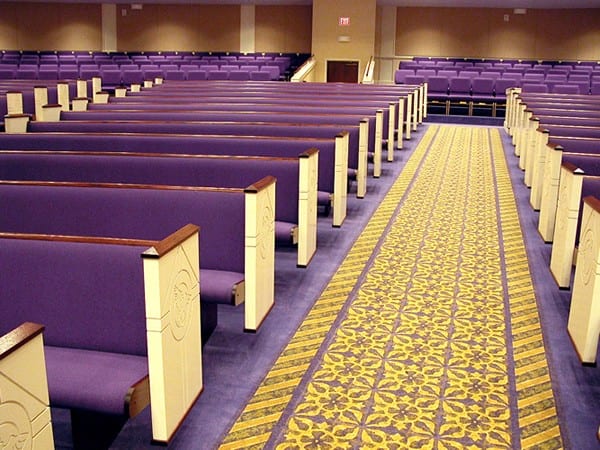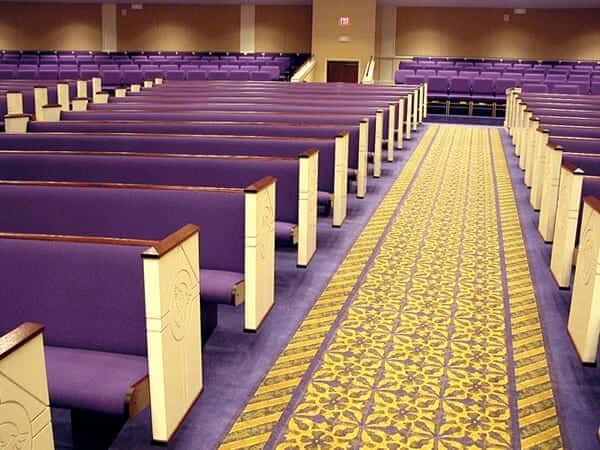 When you invest in wood furniture for your church or synagogue, you expect it to last for decades. So, when you notice your pews, benches, or chairs are looking a bit dingy and in need of TLC, you want to be sure you're using the right cleaning methods to make them look new without damaging finishes or the fabric. You and your congregation deserve to worship their Creator in comfortable, clean, disinfected church seating.
At New Holland Church Furniture, we've been crafting wooden synagogue and church chairs, straight pews, radius curved pews, and combination seating for 70 years. Our attention to detail and old-world craftsmanship assist us in producing exquisite pieces of furniture for your worship space that can stand the test of time. We want to help you take care of upholstered church chairs and pews so that they can meet your expectations for durability.
We previously covered ways to care for and maintain the wood surfaces of your furniture. Still, we wanted to address five frequently asked questions about cleaning the upholstery on your worship seating. If you decide that cleaning your church furniture just isn't cutting it, and maybe it's time to replace it, our team can help you get beautiful new upholstered wood pews that last for years.
1. How Do You Clean Upholstered Church Pews?
There are two basic steps to cleaning upholstered church pews. First, you need to remove dirt and debris. To do so, vacuum the pew cushions with the upholstery attachment. Ensure the vacuum is equipped with a HEPA or ULPA filter to suction out microscopic particles. Finish by cleaning the corners and back edge of the pews with the crevice attachment.
Once your upholstered synagogue or church chairs and pews are free of dirt and microscopic particles, your next step is disinfecting your surfaces. How to disinfect the surface depends on the type of fabric you have. At New Holland Church Furniture, we offer various high-quality fabric types, from 100% polyester to polyester blends. Learn more on how to disinfect these surfaces in the next section.
2. How Do You Disinfect a Cloth Chair or Pew in a Church?
Disinfecting surfaces on church or synagogue seating is a bit more complicated than the vacuum portion and depends on whether you need water-based, solvent-based, or professional cleaning solutions.
For upholstered furniture at your church that requires water-based (marked with a W) or water- or solvent-based (marked with a WS) cleaning solutions: dampen with water-based upholstery cleaning spray or soap and water and gently rub with a soft-bristled brush. Wait five minutes, then wipe with a fresh, damp cloth.
For cloth chairs or pews that need solvent-based cleaners (marked with an S): dampen the fabric with fabric sanitizer spray and let sit undisturbed for five minutes. Use a soft-bristled brush to rub it in gently, and then wipe with a soft cloth.
If your fabric is marked X, you'll need to call a professional steam cleaning service to clean your church furniture.
3. What Products Can You Use to Clean Upholstered Church Chairs or Pews?
You'll want to ensure you're using the right cleaning products when cleaning upholstered church furniture. No matter what products you use for deep cleaning, you should spot-test a small area on an unseen portion of your upholstery to check for discoloration or degradation before cleaning the rest. Also, avoid any products that contain bleach, including furniture wipes, as this will void your warranty.
For WS upholstery, use hydrogen peroxide-, alcohol-, or quaternary ammonium (quat)-based cleaners. For W upholstery codes, nothing beats good old soap and water. You can use a few drops of liquid dish detergent in a bucket of lukewarm water. For fabrics that require solvent-based cleaners only, use a dry-cleaning solvent that is safe for upholstery.
4. How Do You Clean Sticky Messes or Stains from Upholstery?
Sticky messes from spilled coffee or soda, candy dropped on the seats, or other stains are unsightly. The sooner you clean these spills, the better they will come out of the fabric. Blot the excess immediately, then follow the specific stain cleaning instructions for your type of fabric.
Use a mild detergent foam or upholstery shampoo to clean water-based stains from polyester-blend upholstery. For oil-based stains, spot clean with a dry-cleaning solvent, but evaluate it on an inconspicuous area first. While these methods are sufficient for more minor stains, we recommend cleaning by a professional service to remove large, set-in stains and make your furniture look brand new.
5. How Do I Know When It's Time to Replace My Church Furniture?
Even the most rigorous cleaning routines won't help much when your upholstery is damaged or faded. Upholstery eventually breaks down with regular use, so your furniture for church or synagogue does have a finite end date. Some signs it's time to replace your upholstered church chairs or pews include faded fabrics, flattened padding, decorative details breaking, and creaking noises as people sit.
Luckily, New Holland Church Furniture can help you get the right upholstered church or synagogue furniture you need! We have several types of wood finishes, upholstery selections, and styles of pews and chairs. You can order some of our fabric options with specific finishes, including anti-microbial to help fight microorganisms, and stain-repellent to help prevent stains. So, if it's time to replace your straight pew rows, curved pews, chairs, or combination seating, contact us to design your new seating with the high-quality upholstery to match!
Need More Help in Cleaning Furniture for Your Church? Contact Us!
No matter what type of church or synagogue seating you have, cleaning it doesn't have to be complicated. Ensure you follow the directions for your specified type of upholstery. Always spot-check the cleaners on an unseen portion of your fabric before cleaning the entire sanctuary's pews or chairs.
Clean church pews are a refreshing way to welcome congregants to your location. Dingy, dirty pews are unwelcoming and make your church or synagogue outdated. Follow the tips we recommend in this article to clean your worship furniture, and if you need more assistance, or are ready to order high-quality, new church seating, contact our team!