Here at New Holland Church Furniture, we've seen it all in terms of damaged and worn out sanctuary furniture. From pews and other worship seating, pulpits/ambos, clergy chairs, and Bimah furniture, there are not many wood furniture pieces we haven't repaired or replaced!
Because so many houses of worship in our service areas throughout the Western Hemisphere are decades—or even centuries—old, many congregations conduct services in spaces that have been well-loved for generations. And, while high-quality wood furniture and architectural elements can stand the test of time when properly cared for, all of these historic features will require replacement or restoration eventually.
Today's blog post offers a few of the most significant indicators that your worship furniture needs a little refurbishment or has simply reached the end of its useful life. The good news is that when your furniture is displaying any or all of these issues, the skilled craftspeople at New Holland Church Furniture can help.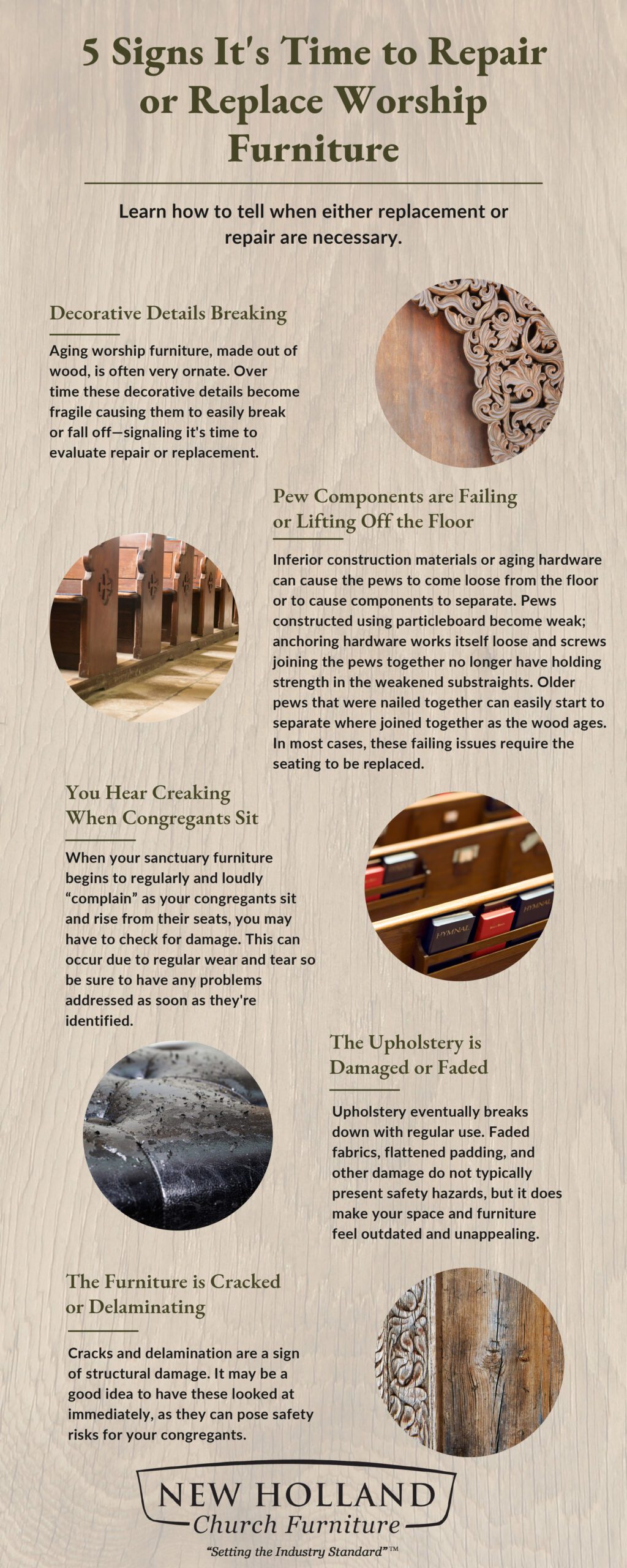 Decorative Detailing Has Been Breaking Off
Worship furniture—especially pieces found in historic 19th-century churches, basilicas, and synagogues that are common throughout parts of the United States—is often breathtakingly ornate. Unfortunately, with all that intricately carved detailing comes the potential for extensive breakage.
Wood naturally dries out over time, and some wood species can become quite brittle with extreme age. This means that sometimes even the smallest bump or brush against an edge can lead to unsightly damage. Do you have a drawer full of detached finials and broken scrolling that you're hoping a little glue might take care of? Don't settle for ineffective repairs when there are better options available to potentially save your furniture pieces and restore their full beauty.
Your Worship Furniture is Warped or Not Level with Floor
While it may now be hard to remember, there was a time before your worship space was centrally air-conditioned. If your sanctuary furniture has been in place for generations, it pre-dates modern indoor climate control that keeps interior spaces at a relatively stable temperature all year long. And that means your wood furniture was once exposed to sometimes massive humidity and air temperature swings.
Because wood naturally expands and contracts as the relative humidity in the air changes, it can easily become warped and/or out of level with the floor that it rests on. If you have an altar table that wobbles or pews with ends or suports that appear to be separating from the benches and bodies, for instance, warping could be to blame. This kind of damage is sometimes quite challenging to fix effectively, too.
Your Congregants Hear Creaking Noises When They Sit Down
Just as our body's joints can get a little "creaky and crackly" as we age, so too can your wooden worship seating's joints! Older pews and worship chairs especially begin to deteriorate from long years of regular use—as well as material warping we discussed above.
When your sanctuary furniture begins to regularly and loudly "complain" as your congregants sit and rise from their seats, it's often necessary to investigate further to ensure that a safety issue is not present. It is possible for pews and chairs to simply break under the stress of normal use once they have deteriorated far enough.
Seating Has Damaged and Faded Upholstery
Upholstery added to wood worship seating can promote the furniture's beauty, complement your sanctuary or other gathering space's overall décor, and increase comfort for your worshippers. However, when upholstery breaks down, it can quickly create an atmosphere that repels instead of invites people to focus on worship.
Faded fabrics, flattened padding, and other damage do not typically present safety hazards, but it does make your space and furniture feel outdated and unappealing.
Your Furniture's Wood is Cracked or Splintering
If you begin investigating your creaky pews and chairs, as we suggested above, you will likely uncover at least some instances of hidden structural damage. Problems like cracks, splintering, and separating joints are a few of these issues you may encounter. These types of significant problems with your worship furniture require immediate attention so that you do not have safety issues to worry about in your gathering space.
Unfortunately, cracks and splinters will require you to think about how to approach overhauling your worship furniture. However, our experts can help you in the decision making process. The best news is that you likely have options beyond simply replacing broken pieces, which will probably offer some consolation to congregations with a lot of historic and gifted/dedication furniture.
Don't Want to Totally Replace Your Historically Important Sanctuary Furniture?
As we covered in an earlier blog post, New Holland Church Furniture offers creative reuse and restoration services to help you breathe new life into damaged furniture.
You do not need to abandon historic pieces simply because of condition issues. Instead, our pros can restore and retrofit most older seating and other worship furniture! We can even turn older-style straight pews into our unique radius curved pews or even combination seating. If it's time to replace or rehab your existing worship furniture, it's time to get in touch with New Holland Church Furniture and learn what our skilled artisans can do to enhance your congregation's gathering spaces.