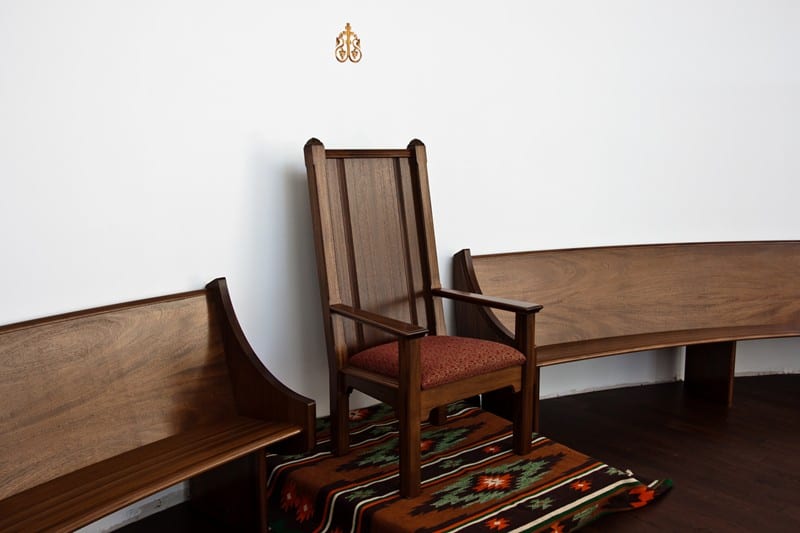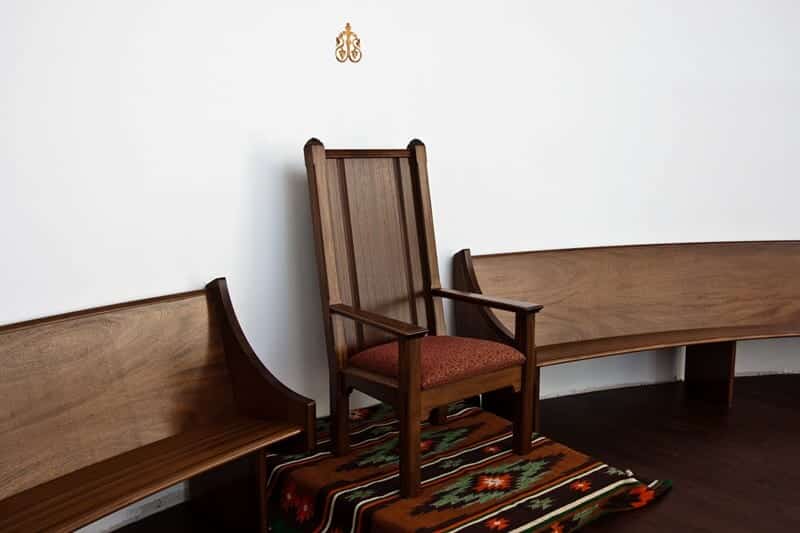 When your church or synagogue is ready for new worship seating, you might automatically think of pews and church chairs for your congregation. But one often neglected piece of church furniture is clergy chairs. Your pastor, reverend, priest, or rabbi often gets a seat of honor on the pulpit or bimah, giving them a much-needed place to rest between their parts of the worship services.
So, if you're tired of sitting on worn and outdated chairs and benches and have considered new furniture for your house of worship, your leaders also likely need new church pulpit chairs.
Here at New Holland Church Furniture, we know a thing or two about worship furniture, and we've been setting the industry standard for over 70 years. Our hand-crafted furniture has filled churches, temples, and synagogues and is quality made to stand the test of time. We can design and manufacture pulpit chairs with upholstery colors that match your church pews and be a source of pride for generations to come.
Get started by reading today's blog post on the different kinds of pulpit chairs for pastors or bimah furniture for rabbis. Then, contact our friendly reps to get started ordering the right furniture for your house of worship.
What Clergy Chairs Are Available for My Protestant Church?
Worship leaders in the Protestant faith are commonly known as pastors, reverends, or preachers, and the sanctuary houses the pews or church chairs for the congregation. The center stage or chancel platform, where the worship service occurs, usually consists of the pulpit, communion table, clergy chairs, and the choir loft. The type of church pulpit chairs your leaders sit on will usually be decided on the available space, whether it's a traditional or nontraditional house of worship, and how many worship leader seats are needed.
How much space do you have?
Depending on the size of your church, the stage from where your pastor preaches may be large enough to hold a band of worship singers or may just consist of a small lectern or podium. Whether you want large wooden chairs with ornate details or a smaller cushioned seat, our pulpit chairs for pastors can accommodate your space requirements.
New Holland Church Furniture design experts can help measure and explore options for your house of worship. For example, if you simply need two clergy chairs or a complete renovation of the pulpit and chancel area, we can guide you through every step of the process and present ideas that fit your particular space.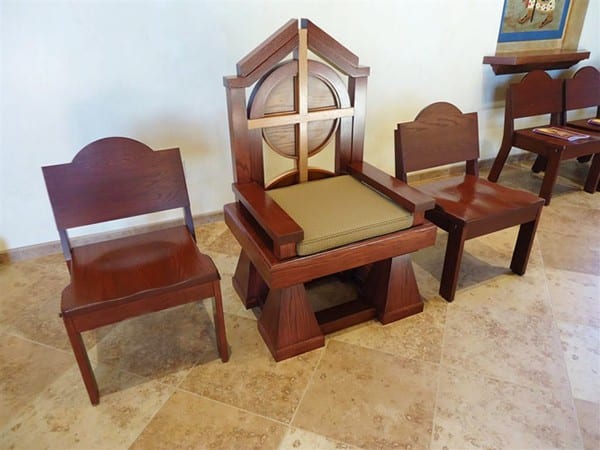 Traditional vs. Nontraditional
Places of worship come in all shapes and sizes and can feature a traditional building with church pews or flexible seating housed in a shared space. Before deciding what kind of church pulpit chair to purchase, you must first identify whether a formal or informal look will complement your place best.
How many do you need?
A congregation with less than 50 members will not have the exact clergy chair requirements as a worship group with over 500 members. Maybe you just need two pulpit chairs for your worship leaders or a center chair and two side chairs, or even a whole pew for your clergy seating. Either way, we will listen to your needs and offer recommendations so your church elders will be comfortable in our quality-made wooden church furniture for years to come.
What Clergy Chairs Are Available for My Catholic Parish?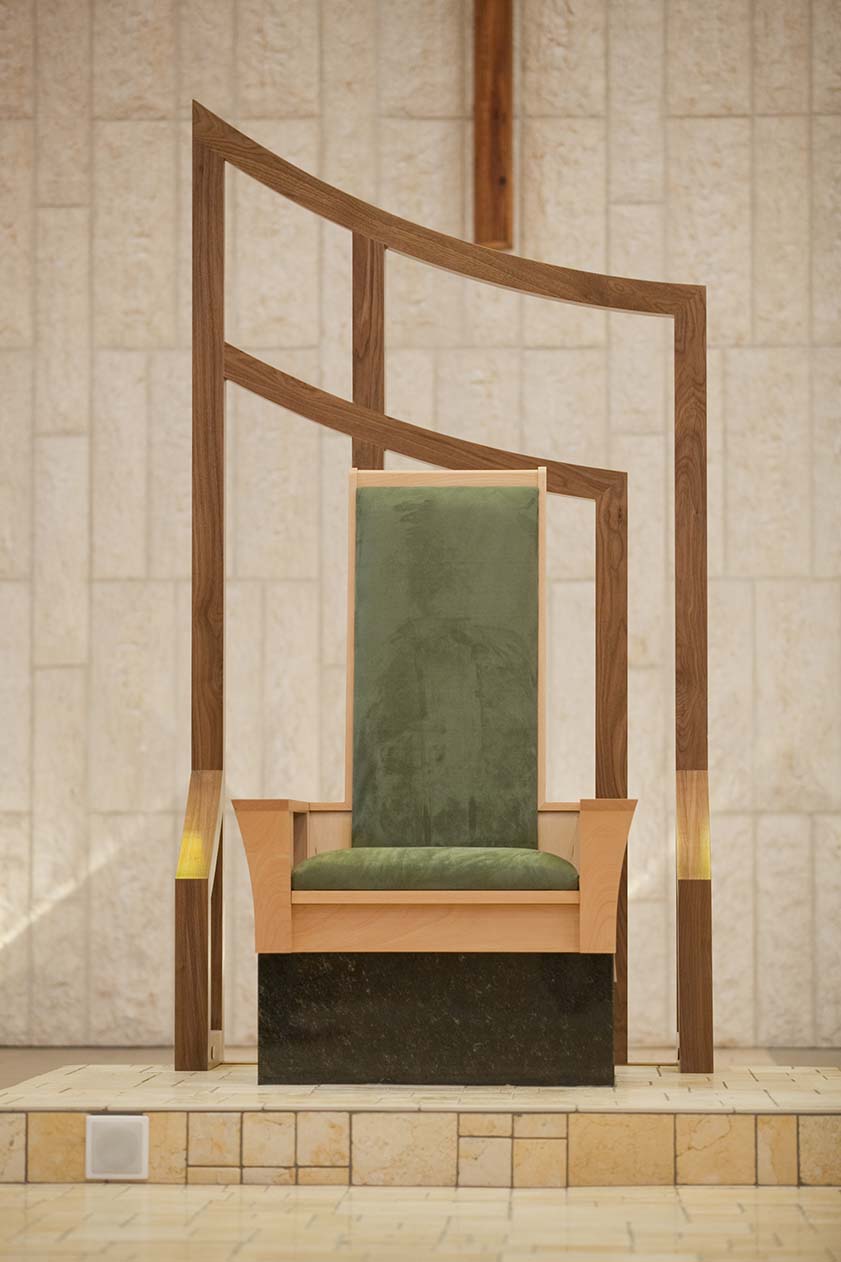 Although Catholic clergy leaders are often known as a priest or called father, the setups of the worship space are similar to those in the protestant faith. At New Holland Church Furniture, our team has manufactured and installed clergy seating, as well as acolyte seating for parishes and cathedrals worldwide.
During mass, the priest sits in the presider's chair, and as with those in the Protestant faith, the number of side chairs needed will be determined by your specific worship space. Typically, a minimum of two acolyte chairs are required. Whether you need one or two side chairs for lay ministers, or other church furniture, we'll custom-design unique worship furniture for your church. For example, in addition to the presider's chair, you may also need altar or ambo.
No matter what your Catholic church needs are, we can help. We offer packages of matching sanctuary furniture, and our endless customization options can help with details like custom turnings, added symbols, and much more to your church or cathedral.
What Clergy Chairs Are Available For my Synagogue?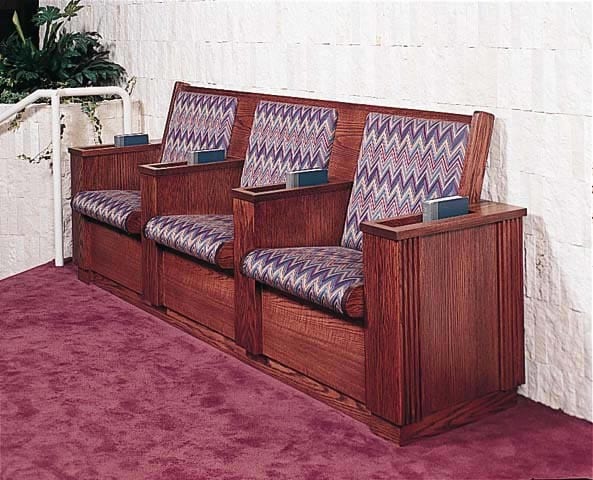 Clergy leaders in the Jewish faith are known as rabbis. Where they sit in the synagogue during a service depends on whether they are part of the Orthodox or another branch of the faith. Rabbis sit in chairs on a raised platform known as a bimah and will conduct readings from the Torah during the service.
If you're ready to upgrade the seating for your rabbis, incorporate a new design or upgrade to your synagogue, our team is prepared to assist you in any way. We can also build you matching Torah stands or Torah arks to complement your new furniture perfectly.
Ready to Improve Your Synagogue Bimah or Church Pulpit Chairs? Find a Rep Today at New Holland Church Furniture!
Whether you're ready to renovate your entire sanctuary or temple or are just looking to replace worn-out church pulpit chairs, New Holland Church Furniture can help! We'll help you analyze your space, review design details, and determine style and quantity of chairs needed. Our team of experts is here to guide you through every step of the process, from selecting upholstery colors and wood type to installing your new furniture.
Now is the time to determine what new clergy chairs can mean for you and your congregation. If you've been thinking about new seating for your church members and clergy leaders, the friendly staff at New Holland can help you every step of the way. Call or find a rep in your area to get started today!