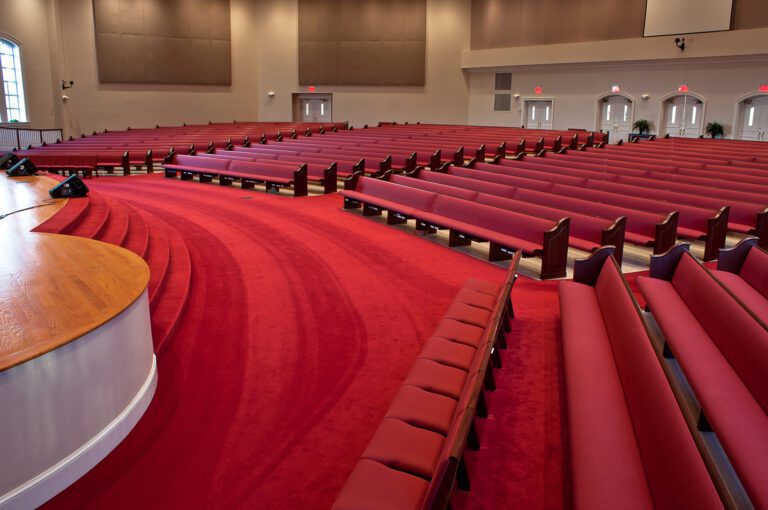 Are the metal folding chairs in your worship space starting to cost more money to repair and maintain than they're worth? If so, it's time to make the transition to church pews! Pews are low-maintenance and durable, meaning you'll get decades of use out of them without worrying about constant repairs. To make the transition easier, you can involve your church members and leadership in the decision and emphasize the advantages of pews.
New Holland Church Furniture is here to help you create and design the perfect seating for your worship space. Our design experts have the knowledge to ensure the pews are installed in the most beneficial design configuration in your church or synagogue. Plus, we can help you make the transition as smooth as possible!
Keep Worship Attendants Informed
When you decide it's time to upgrade the metal chairs in your worship space to beautifully designed pews, the transition may be unsettling for your worship attendants. People are naturally resistant to change, but if you can keep your congregation involved and informed in the decisions leading to pew installation, you're less likely to hear complaints.
Perhaps you want to return to more traditional services, and pews are a way to enhance that tradition. Start by describing how pews align better with your mission. Then, let the congregation know that you considered other possibilities and why those won't work for your worship space. Finally, allow the community to have a say in the design of the pews by voting upon two to four options of wood choice, design, and fabric.
Choose Upholstered Pews
The beauty of transitioning to wood church furniture instead of metal is that there are endless possibilities. Whether you want curved pews or straight ones, you can choose to have them upholstered on either the seat, the back, or both.
Choosing to have your benches upholstered will make them more comfortable for your congregation, leading to fewer complaints about the transition from cold, hard metal chairs.
Emphasize Pew Benefits
The benefits of wood pews compared to metal church chairs are endless. By emphasizing these benefits, everyone involved in the church, including clergy, staff, custodians, and worship attendants, will be excited about the transition. Here are just some of the excellent benefits pews have to offer:
Continuous pew bodies up to 22 feet
Create a greater sense of community
Durable and sturdy
Allow for more personal space
Available in virtually any wood species
Low maintenance
No risk of falling or being stolen
Fixed in place, so there's no need to straighten rows before or after service
Keep Seating Configuration
When you decide how to arrange your new church or synagogue furniture, it's helpful to keep the seating arrangements the same as the metal chairs or at least very similar. And since church pews can be curved, angled, or arranged in nearly any configuration, it's easy to match the existing seating arrangement. Plus, switching to benches gives you an excellent opportunity to ensure your worship space is accessible for everyone.
What To Do with Old Metal Chairs?
Once you decide on the seating configuration, it's time to decide what to do with those old metal chairs. You have several options, like donating to a local thrift store or school. You could also keep them for events at the church or synagogue, provided you have the storage space. Or, try recycling or selling them.
Give Your Worship Space a Good Cleaning
Before the installation crew arrives to install your new church pews, now is the perfect time to give your worship space a thorough cleaning. Remove the old chairs and thoroughly clean the floor. Use this opportunity to get the floor polished or carpet cleaned before the new church furniture arrives. And don't forget about the other furniture in your worship space that needs disinfecting too!
Ready to Transition to Church Pews? Contact New Holland Church Furniture Today!
Now that you know how to make the transition from metal chairs to stunning and traditional wood church pews, it's time to get started! New Holland Church Furniture is here to help you every step of the way—from design assistance to installation, and we'll ensure your complete satisfaction throughout the process.
Contact us today to learn more and see how we can help you create a smooth transition to pews without alienating your church attendants!